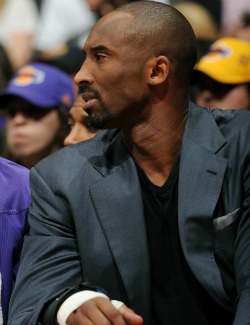 By Matt Moore
News of
Kobe Bryant
's
torn wrist ligament spread like fire
Wednesday. The
Lakers
, secretive as ever, list Bryant as day-to-day. That could be because they like to keep things under wraps. Or it could be because they don't know how long they'll be able to keep the strong-willed Bryant -- well-known for playing through pain -- off the floor.
Which is what makes this so frustrating for Bryant. He struggled with injuries the past two seasons, particularly a torn ligament in his pinky and a knee condition which required experimental treatment in Germany. But the long layoff had resulted in an invigorated Bryant proclaiming he was the healthiest he'd been in years. He talked about the knee being able to let him do anything he wanted. So to immediately suffer a significant wrist injury, regardless of how long he's out for, if at all, has to be frustrating. (The fact that he injured it after being blocked to oblivion by
DeAndre Jordan
doesn't hurt, really, but it cetainly doesn't help.)
There's a wide range of opinions on how long Bryant will be out. It essentially comes down to this. Doctors think the wrist needs time to heal but he could play through it, and teammates are certain he'll play Sunday against the
Bulls
in the Lakers' opener in Los Angeles.
From the
Los Angeles Times
:
"Without being privy to the MRI, these types of injuries can take anywhere from several days to several weeks to heal completely," said Keith Feder, a Manhattan Beach sports-medicine specialist. "But depending on the pain level, and with support, the athlete could play."
via
Kobe Bryant's wrist injury leaves his status for Lakers' opener in doubt - latimes.com
From ESPN and Dr. Robert Klapper:
"You usually don't have to operate on them, but it means that you need to let them rest so you can heal."

Hands and wrists, Klapper says, heal faster than an ankle fracture, for example. He notes that the length of Kobe's absence depends on the specific diagnosis. How severe is the tear? Recovery time could be a month, it could be less. Bryant really could be day-to-day if the tear is "microscopic." God is in the details.

Interestingly enough, Klapper says anti-inflammatory medicines "have been shown to delay the healing." Meanwhile, Vitamin C helps speed healing (and as an added benefit, staves off scurvy, should Bryant take up pirating in his spare time).
via
Dr. Robert Klapper on Kobe Bryant's wrist injury - Los Angeles Lakers Blog - ESPN Los Angeles
Then you have to hear what Bryant's teammates said after the Lakers' preseason loss to the
Clippers
Wednesday night: Bryant declined to talked to reporters, but longtime teammate
Luke Walton
was optimistic about his recovery.
"He plays through injuries that most people don't," Walton said. "I did see his wrist and it looked like Professor Klump because it was so swollen. But I think he'll be ready by Sunday."
Said Lakers center
Andrew Bynum
: "It's tough for him to miss a game, so I think he'll be up and ready to go." via
Kobe Bryant's wrist injury leaves his status for Lakers' opener in doubt - latimes.com
.
Sounds about right. Most people would be out a few weeks with this injury. Kobe Bryant is not most people. But there are larger questions in play here. Can the Lakers win without Bryant? It's possible. The Bulls game may be a loss, but that was questionable from the start what with
Derrick Rose
being guarded by
Derek Fisher
and
Steve Blake
. The larger problem isn't Bryant's absence, though he is imperative to any Lakers gameplan. It's that Andrew Bynum is serving a five-game suspension starting Sunday for a flagrant foul on J.J. Barea in last year's playoffs. The Laker can survive without Kobe Bryant for a few games. Surviving without Bryant and Bynum becomes a much tougher trick.
So why not play him, just let him work through it? Because the injury is such that repeated damage to it could cause longer term problems. Bryant is still better than 90 percent of most NBA players at 80 percent or even 70 percent, but the wear and tear does have which could be cumulative. The Lakers want to win now. Not next year, not two years from now. Now. (And in the future. That's kind of their bag. Win now, win later, win always.) And to do that they have to have the franchise player healthy for the playoffs. Risking a substantive long-term injury to win a handful of games early is not worth it.
So why not bench him, let him rest up, and play him when he's back at full strength? Take no chances, so to speak? Because of the shortened schedule. With Bynum out, the Lakers would be in the precarious position without Bryant of starting 1-4 or 0-5 without Bynum. Three of their first five opponents are playoff teams, six of their first ten. What does a 3-7 start do with just 56 games remaining? To be assured of the equivalent of 52 wins in a normal season, the Lakers would have to win roughly 42 games. which would likely be necessary for a top four seed in the playoffs even in a diluted Western Conference, the Lakers would then need to go 39-17 the rest of the way. That's just to get to the same winning percentage as the Eastern fourth seed
Magic
last season.
It's an impossible problem, one which the Lakers will no doubt struggle with over the next few days. The final decision will rest with Kobe, who will want to play. And the amazing part is, it's likely Bryant will score 30+ in a game with a bad wrist. His ability to adapt and play through injury is quite literally the stuff of legend. In ten years, players will tell tales of him playing through having his hand sawed off with a lightsaber like Luke Skywalker. But the issue is that one game will cloud what could be peripheral issues in his game. Ball-handling, which has become more of an issue for Bryant (half-court traps have given him a world of fits the past two seasons, and forced two turnovers in the first preseason game), could be impacted. Passing. Defense due to an inability to effectively check with that hand or apply pressure. Tentativeness on either end of the floor depending on how the wrist is feeling.
Without Bryant, the Lakers are in trouble. If Bryant plays, his season could be in trouble. We're betting Bryant plays, and plays well, but this is not the start the Lakers wanted, even beyond the failed trade for
Chris Paul
,
Lamar Odom
's subsequent departure, Bryant's divorce, and the predictable struggle to adapt to a new system. If the Lakers are to overcome adversity and regain the position at the top of the NBA mountain, they'll need everything they can get from every player.
Or
Dwight Howard
.