Posted by
Ben Golliver
.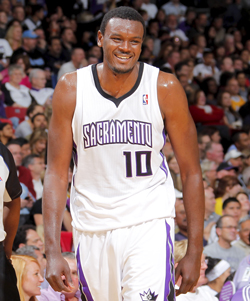 The Houston
Rockets
just landed their 145th choice for a center. Throw the parade.
ESPN.com reports
that the Rockets have inked free agent center
Samuel Dalembert
to a 2-year deal.
The Houston Rockets have reached terms on a new contract with free-agent center Samuel Dalembert, according to sources close to the situation. Sources told ESPN.com that Dalembert has agreed to a two-year deal. The value of the contract was not immediately known.
Yahoo Sports reports
the following contractual details: "Dalembert's 2-year deal with Houston pays $7 million in 2011-12 with a team option for $7 million in 2012-13, sources say. If option declined, [there is a] $1.5 million buyout."
The news comes one day after the Sacramento
Kings
had
reportedly emerged
as the leader for Dalembert's services.
Kings president Geff Petrie issued a terse, one-sentence press release on Wednesday: "The Sacramento Kings today announced that the team has withdrawn its offer to free agent center Samuel Dalembert, according to Kings' President of Basketball Operations Geoff Petrie."
Translation: "He's going to Houston? We never wanted him anyway!" Gee whiz, guys, no hard feelings.
Dalember to Houston comes after a tumultuous two weeks of searching for the Rockets, who had hoped to be major players in a free agency market loaded with big men. Looking to fill the hole left by the retirement of franchise center Yao Ming, the Rockets watched
Tyson Chandler
and Nene Hilario sign elsewhere. They
extended an offer sheet
to
Grizzlies
center
Marc Gasol
, only to watch him re-sign in Memphis. To add insult to those injuries, a 3-team trade that would have landed Los Angeles
Lakers
All-Star big man
Pau Gasol
fell apart
when NBA commissioner David Stern, acting as owner of the New Orleans
Hornets
, nixed it multiple times.
Dalembert, 29, isn't the worst consolation prize, although he's no All-Star. A 9-year NBA veteran who spent his entire career with the Philadelphia
76ers
before landing in Sacramento last season. His career averages: 8.1 points, 8.3 rebounds and 1.9 blocks per game.