Posted by
Ben Golliver
.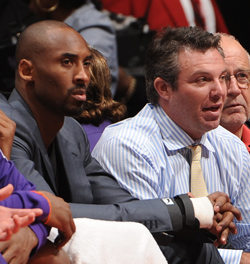 The failed
Chris Paul
trade, the departure of a trusted teammate and the dissolution of a decade-long marriage.
If that wasn't enough, the hits keep coming for Los Angeles
Lakers
All-Star guard
Kobe Bryant
.
The Orange County Register reports
that Bryant sat out Lakers practice on Thursday due to a torn ligament in his right wrist. The paper
reports
that Bryant said he "should be fine to play" when the Lakers open their regular season by hosting the Chicago
Bulls
in Staples Center on Sunday.
The Los Angeles Times reports
that Bryant called his wrist injury "swollen and painful" but later added that, "It's always been in my nature to try to figure out a way to play."
The injury kept Bryant from action during Wednesday night's exhibition 108-103 loss to the Los Angeles
Clippers
. Bryant sat on the team's bench wearing a large guard on his wrist.
The Lakers first announced the injury in a prepared statement on Wednesday.
Los Angeles Lakers guard Kobe Bryant, who suffered a right wrist injury in Monday night's game against the Clippers, was examined today by Dr. Steven Shin of the Kerlan-Jobe Orthopaedic Clinic and underwent an MRI exam. Results show that Bryant has a torn lunotriquetral ligament. Bryant will not play in tonight's game against the Clippers and his status is day-to-day.
Bryant played 30 minutes in Monday's 114-95 loss to the Los Angeles Clippers, tallying 22 points, 3 rebounds, 4 assists and committing 7 turnovers.
Bryant, 33, did not miss a game during the 2010-2011 NBA season. He's missed just 16 combined games over the last six seasons.