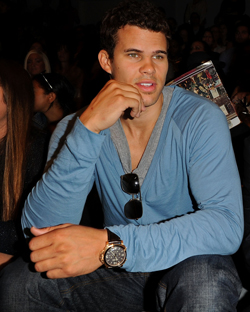 Posted by Royce Young
Celebrate
Kris Humphries
, you just beat out
LeBron James
for something. Well, maybe you should check what that something is first.
According to Forbes
, via a poll conducted Nielsen and E-Poll Market Research, Humphries was voted the NBA's most disliked player. Fifty percent voted to dislike Humphries while No. 2, LeBron, picked up 48 percent. I guess people either were really mad about the 72-day Kim Kardashian marriage or there are a lot of sympathetic people towards Kim K. I have a feeling it's not the latter.
"He's been on five magazine covers, all in a negative light," Stephen Master, VP at Nielsen Sports, which helped run the survey, told Forbes. "It's all so recent, he's gotten all this publicity for something other than basketball talent."
It is surprising that a little reality show and Hollywood marriage would bump Humphries all the way up this list topping people like LeBron,
Carmelo Anthony
,
Tony Parker
(who divorced from actress Eva Longoria with reports of cheating),
Kobe Bryant
(who is getting divorced) and
Chris Bosh
.
I'm noticing a theme though: NBA fans don't like divorce, I guess.
Here's the full top 10:
1. Kris Humphries (50 percent dislike)
2. LeBron James (48 percent)
3. Kobe Bryant (45 percent)
4. Tony Parker (37 percent)
5.
Metta World Peace
(36 percent)
6. Chris Bosh (34 percent)
7. Carmelo Anthony (27 percent)
8.
Paul Pierce
(25 percent)
9.
Dwyane Wade
(23 percent)
10.
Lamar Odom
(21 percent)
Via PBT