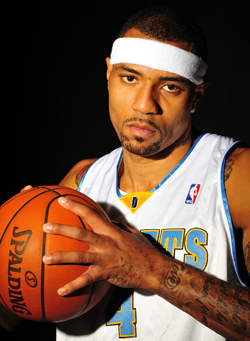 Posted by Royce Young
Kenyon Martin was one of a handful of NBA players that decided to sign in China, despite the Chinese Basketball Association installing a rule that didn't allow NBA opt-out clauses.
Players like Martin, J.R. Smith,
Aaron Brooks
and Wilson Chandler seem to be trapped in China until their season ends sometime in February or March.
Martin however, reached a buyout with his team Xinjiang,
according to Yahoo! Sports
. There's a catch though: As part of the agreement, Martin must honor the Chinese Basketball Association's rules and wait for the end of his team's season to return to the NBA. The CBA's regular season ends in February, but it's likely his team will play in the postseason, so it could be March.
Martin's deal with Xinjiang was worth a record $3 million.
This is massively important for Brooks, Smith and Chandler's situations as this has set the precedent for how their buyouts will be handled. I'd expect them to seek similar buyouts with their teams, but they won't be given clearance to return to the NBA until the end of their CBA season, meaning they done messed up by signing in China despite knowing the no opt-out clause.
There was an expection that Smith and Chandler would be released by their teams
, but that doesn't appear to be happening.
Most players seemed to think that getting out of their Chinese contracts would work.
Earl Clark
did it,
citing personal reasons to leave
. But he did this while the lockout was still in place. The players wanting to leave now are leaving for the obvious reason to return to the NBA.
Why reach a buyout now and not just play out the season? Injury, obviously. Martin doesn't want to risk anything playing in China when he can become a free agent in March. He wants to get healthy and get ready to join a team, hopefully in time for a postseason run.