By Matt Moore
and
Ben Golliver
.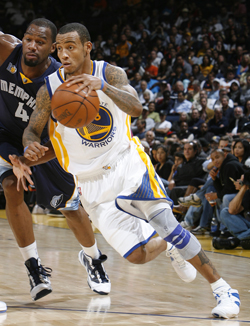 An explosive lawsuit involving indecent text messages has been filed against an NBA star.


The Contra Costa Times reports
that a former Golden State
Warriors
employee has sued the team and guard
Monta Ellis
for sexual harrassment. The lawsuit also alleges that the Warriors terminated her employment in an effort to cover up the scandal.
According to an email from the Law Offices of Burton F. Boltuch, the plaintiff will file the suit Wednesday morning in Oakland at the Superior Court of Alameda County. Afterward, a press conference will be held to discuss the allegations.

According to Boltuch, the plaintiff is accusing Ellis of sexually harassing her from November 2010 to January 2011. The accuser, according to Boltuch, has photo evidence of the harrassment, which he claims was sent from Ellis' cell phone to the plaintiff.

The photo will be revealed – along with the identity of the accuser – at the press conference, Boltuch said.

"You will be shocked when you see it," Boltuch said. "It's pretty disgusting and graphic."
The San Francisco Chronicle reports
that Ellis sent "dozens" of text messages, including one of a "graphic photo of [his] genitalia."
Erika Ross Smith said in a lawsuit filed in Alameda County Superior Court Tuesday that Ellis began sending her explicit messages in November 2010 while she worked in the team's community relations department.

Ellis allegedly texted Smith "several times in a single day, late at night or in the early morning hours," using a "secret" telephone with a 601-area code, the suit claims. The texts from Ellis included phrases like "I want to be with you," and "Hey Sexy," to which Smith responded with "What do you want?" and "I am sleeping," the suit alleges.

Smith's attorney, Burton Boltuch, said his client's job description was abruptly changed after Ellis' wife, Juanika Amos Ellis, learned of the texts in January and complained to team executives.
The San Jose Mercury-News reports
that Warriors president Rick Welts issued a statement on Wednesday, insinuating that this lawsuit was a money grab and fighting back against the claim that the organization had professionally punished the plaintiff because of the relationship.
When we were made aware of a consensual relationship between Mr. Ellis and the Plaintiff, we did what an organization should do. We told both to stop – promptly, directly and fairly. The Warriors have never taken any action against the Plaintiff for any inappropriate reason, and we deny the allegations she is making.

We live in a litigious society in which lawsuits too frequently are driven by money and not the pursuit of justice. We will vigorously defend the reputation of the Warriors organization in the courts. We don't plan to make any further comment about the details of the case."
Ellis, 26, is married and has one son.
He averaged a team-high 24.1 points per game for the Warriors last season.