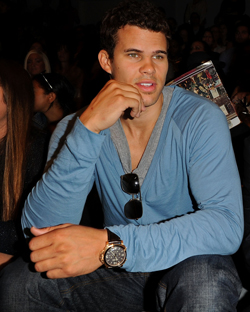 Posted by Royce Young
The
Nets
are close to finalizing a one-year deal worth somewhere in the $7-8 million neighborhood for power forward
Kris Humphries
,
according to Yahoo! Sports
with confirmation from Ken Berger of CBSSports.com.
I think we all just said, "$8 million for Kris Humphries? That sounds steep." But think about it this way: Humphries initially saw himself as a $10 million a year guy, and for good reason. Humphries finished last year as a double-double machine, averaging 10.0 points and 10.4 rebounds per game starting for the Nets. Per minute, Humphries was one of the top rebounders in the entire league and finished with an above-average PER of 17.89.
But nobody on the market wanted to dish out that kind of money -- keep in mind,
David West
got $10 million a year -- for a guy that's largely an energy player. The Nets though needed him badly, especially considering that their current starting 4 is
Johan Petro
. So while $8 million is a lot for Humphries, it's not that much to the Nets. If that makes sense. They had a serious need for him.
And it's only for a season. The Nets maintain financial flexibility for next summer when
Deron Williams
, along with
Dwight Howard
, are free agents. The Nets have said before they want Humphries to be part of their long-term plans, but likly couldn't come to an agreement for multiple years in the $5-7 million range. So they compromised with more money for less years.
Keep in mind,
Kwame Brown
got $7 million a year for a season in Golden State. That's the market we're looking at here. People overpay for good big men. It's just life in the NBA.
Also: This is where a Kim Kardashian joke is supposed to go.