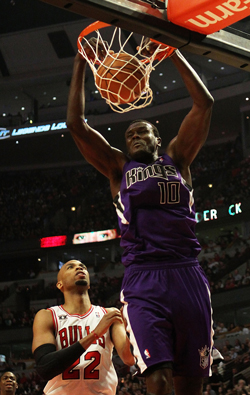 Posted by Royce Young
Samuel Dalembert
is maybe the top free agent prize left on the market, especially in terms of big men. And there are two teams in desperate need of a center -- the
Rockets
and the
Kings
.
The Rockets saw Yao retire, their trade for
Pau Gasol
fall apart at the feet of David Stern and their offer to
Marc Gasol
get matched. The Kings had to void the contract of their new center
Chuck Hayes
because of a heart issue. That leaves them both in need of a big man, but right now, Sacramento might have the leg up.
Kings general manager Geoff Petrie was asked about re-signing Dalembert and
he told the Sac Bee
, "We've stayed in touch with him periodically along the way. We'll see what develops here in the next few days and go from there."
The Kings have money to spare as they're about $13 million under the cap after the deal for Hayes fell through. Dalembert is going to require more than the Hayes deal did however. And it seemed like Sacramento was content on letting Dalembert walk before Hayes failed his physical.
What about the Rockets? Aren't they about to offer Dalembert?
NBA.com reports
that the Rockets are "taking a pass" on Dalembert for the moment, which leaves the door open for a return to Sacramento. The other teams in the running have been the
Heat
and maybe the
Timberwolves
, but it's looking unlikely that either of those would really be in the mix.
With the market being so thin but two teams in desperate need of Dalembert's rebounding and shot blocking, the prize is being driven up and down at the same time. Dalembert was one of the more overpaid players last season, but could certainly be a major impact player for whoever he signs for.
The Rockets saying they're moving on means that they haven't been able to get Dalembert to their number and are hoping that he'll see how thin the market is and come back to accept their offer. At least that's how I'd guess this is going down.
As for the Kings, they need a center as well, but like the Rockets, are looking for a value get. Going to be tough landing that in Dalembert but right now, they're options are limited.