Posted by Ben Golliver.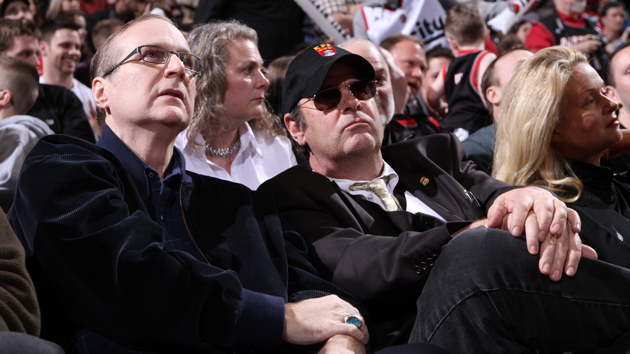 PORTLAND, Ore. – Portland Trail Blazers owner Paul Allen made his fortune toiling away in dungeons.
In his recent autobiography, Idea Man, Allen wistfully recalls the small apartments, cramped workspaces, crowded dormitories, dark basements and shared offices that produced Microsoft, the computer software company he co-founded with Bill Gates that made him into a billionaire more than a dozen times over.
2011 has been a year Allen won't soon forget. His helicopter crashed off the coast of Antarctica; he reportedly secured the premier superyacht docking spot for the 2012 Summer Olympics in London; he was sued by his ex-military bodyguards for alleged illegal activities; he fired his second Blazers general manager in less than a year; he emerged as a villain during the NBA's collective bargaining negotiations for his hardline approach; and he watched his beloved basketball team, which he has owned since 1988, crumble at the knees, opting to spend more than $60 million to use the amnesty clause on former All-Star guard Brandon Roy so that he could begin to rebuild it.
There's the "Mo Money, Mo Problems" explanation, but that is ridiculous.
Along the way, Allen has drawn more than his fair share of criticism, most of it centering on his unpredictability and rash decision-making. A regular luxury tax spender over the last decade, Allen switched course to push for the NBA to overhaul its financial system by drastically increasing revenue sharing and restricting large-market teams' abilities to spend on player payroll. A certified computer genius who hand-coded Microsoft's early products, Allen has meddled so regularly with the Blazers that his employees seemingly never know what's coming next and his basketball operations executives spin through as if in a turnstile.
To the city of Portland, Allen has been a globe-trotting technology junkie who uses Twitter regularly but has refused to take questions from independent media outlets in years, granting only rare, rehearsed interviews to team broadcasters and occasionally issuing prepared press releases.
Allen ended that with a bang on Monday night. And he returned to the comforts of his dungeon to do it.
Roughly an hour before the Blazers tipped off their preseason opener against the Utah Jazz, Allen invited a group of six writers, one team employee, one radio talk show host and one television anchor into an auxiliary locker room inside the bowels of the Rose Garden, a stadium designed to his specifications, all the way down to the apartment and helipad for his personal use. The use of Twitter during the interview was expressly disallowed; photographs and video of the meeting were forbidden. All conditions had to be agreed to prior to entering. Inside the concrete cube, water bottles had been laid out around a square table, with Allen entering last to sit at the head of the table, as you probably expected.

Of course, this is where and how Allen would prefer to end his years-long silence in Portland. Of course it was.
Wearing what is essentially his gameday uniform – a navy blue light jacket, dark pants, a white and blue dress shirt, square-framed eyeglasses and a turquoise ring – Allen patiently answered question after question for more than 35 minutes. His hands pounded the table, his arms waved; he held his forehead at times and crossed his arms at others. He nearly teared up when discussing Roy's departure from basketball, and he alternated between making direct eye contact and gazing into the empty, closed airspace above the reporters' heads.

He looked, often, like the typecast, anti-social, middle-aged former software engineer that he is.
This wasn't billionaire pomp and glamour; it was start-up style frank talk. His words were firm and friendly even when delivering some of the biggest doozies you will ever hear from an NBA owner.
For instance: His biggest clearly-expressed problem with former GM Rich Cho was their inadequate courtside banter during games. And Cho's predecessor, Kevin Pritchard, according to Allen, decided to fire himself.
Cho, known as a sharp salary cap manager and analytical thinker, was abruptly fired in May 2011, weeks before the 2011 NBA Draft. The decision was made because his chatter wasn't properly stimulating.
"I sit with the general manager down on the court and I talk through every game with them and you get a sense for his thinking and his evaluation of players, how he thinks about our team, how he thinks about our coaching," Allen explained. "You can have a good interview with somebody and be optimistic but then when it comes to getting into the season, sitting next to them, talking about the players, where you are going, potential trades, sometimes you realize it's not a good fit. That's basically what happened with Rich. He's a great person and I wish him well. But it wasn't a good fit."
The Cho firing was stunning in its swiftness -- he was canned after spending less than a year on the job-- but it didn't leave the same emotional crater as Pritchard's departure, which occurred on the night of the 2010 NBA Draft. Pritchard, practically a cult hero in Portland for his salesmanship and stewarding of a young up-and-coming Blazers squad, dealt with weeks of agonizing job uncertainty after watching his right hand man, Vice President of Basketball Operations Tom Penn, abruptly fired during the second half of the 2009-2010 season. Pritchard's chaotic draft day dismissal came to symbolize Allen's overbearing, impulsive ownership style.
But Allen's version is completely different. Allen's account has Pritchard practically begging for the axe, going out of his way more than once to request that Allen let him go.
"I went out to get a breath of fresh air and Kevin tracked me down and basically said, 'Well, you've already decided to let me go.' And I said, 'Nooo, I haven't?' And he said, 'No, but you really should. Can I just meet with [Blazers president] Larry [Miller] the next day and we'll part ways?' And I was like, 'OK… really?'"
To hear Allen tell it, Pritchard's job wasn't even necessarily in jeopardy. A "deep discussion" with a "real heart-to-heart" exchange could have bought Pritchard another year as Blazers GM. But it wasn't to be, Allen said, because of Pritchard's persistence.
"He asked to be let go," Allen said, point blank. "Multiple times. I heard that you guys had that story."
Allen's voice rose when describing his surprise at Pritchard's supposed statements, as if to imply that he was caught entirely off guard, the smartest guy in the room totally blindsided by a situation that had been festering for months.

That same self-presentation emerged later, when Allen was asked about criticism he received from National Basketball Players Association executive director Billy Hunter and union lawyer Jeffrey Kessler following an October collective bargaining agreement negotiation session. Hunter and Kessler said that Allen had "hijacked" the negotiation by showing up unexpectedly to "deliver a message" to the players on behalf of hardline owners.
"I wouldn't characterize it as polarized as all that but you always have that tension in any CBA negotiations," Allen said.
Just like the Pritchard situation, Allen painted himself as an innocent, well-intentioned participant who didn't realize the enormity of the situation he was entering until it was too late.
"It was an unusual thing," Allen said. "There I am trying to say, 'Look, we as small markets need to think collectively in certain ways and hold the line on certain things.' They ask me to attend one of these face-to-face meetings with players, and I said, 'OK'.
"I go in there and one of the other owners says, 'We've got some real hard-liners in this group like Mr. Allen at the end of the table.' And I'm like, 'OK, here I am. I'm [just] taking notes.' So all the players looked at me like, 'Oh, you're the hard-liner?'"
The negotiations had stopped and started for months by that point and the players seized on Allen's presence – he is the richest owner of an NBA team, after all – to push back against a rising tide of public sentiment that the players were being greedy by refusing to compromise on the split of basketball-related income.
Within weeks, Charlotte Bobcats owner Michael Jordan, another small-market owner aiming to remake the NBA's system in his own favor, had become a public target too.
"Me and Michael [Jordan], I guess, took the lightning rod as being the hard-liners," Allen said, smirking.
And, then, as if an afterthought, Allen slipped in a grand admission at the end.
"In truth, I did believe we should hold the line on some things more than some other owners did but there were a lot of us that felt the same way," Allen said.
The questions and answers continued to fly back and forth.
Did Allen have plans to sell his team? No. Was he ready to make a detailed long-term commitment to his ownership? No, health concerns prevented that.
Was he ready to name another GM? No. Was Acting GM Chad Buchanan, who helped Portland add Jamal Crawford, Kurt Thomas and Craig Smith during the rushed free agency period, a candidate to get the position full-time? No, but he's done a good job.
Does Allen simply want to be GM himself?
"It's really puzzling to me when I read or hear that people think that I want to be the general manager," Allen said, raising his arms as he repeatedly exclaimed. "No! No!"
He then added: "I just want to ask the questions and I want a great general manager."
Of course, Allen had no clear plan or even a firm timetable to get what he wanted, as his most recent search process turned up empty and he wasn't ready to commit to starting a new one. Whoever ends up filling the position will face a different era in the financial management of the team thanks to the new CBA.
Claiming that he had lost "hundreds of millions" of dollars during his ownership tenure, Allen said that his aggressive spending stops now. Maybe.
"I've invested a lot but the crazy luxury tax days and all those things are gone," Allen said. "I mean, there's no enjoyment to losing money. I don't know anybody who thinks there is."
Moments later, he left open the possibility that he would spend big again if it meant winning a title, something that has eluded him as owner of both the Blazers and the National Football League's Seattle Seahawks.
"It's one thing to say 'I'm going for it. It's a near championship year. I'll sign a couple of free agents and spend a lot more than usual.' But to do that on a regular basis doesn't make sense."
This year's Blazers are a clean slate thanks to Roy's departure and lowered expectations surrounding center Greg Oden, who recently suffered a "setback" in his years-long recovery from multiple knee surgeries, according to the team. The group that is healthy, headlined by forwards LaMarcus Aldridge, Gerald Wallace and Nicolas Batum and guards Raymond Felton and Crawford, promises a faster tempo, more end-to-end action and another shot at winning a playoff series, something Portland hasn't managed since 2000.
Allen sounded excited for the start of the season but he, like the rest of Portland, hadn't yet processed Roy's decision to step away from basketball, after just five seasons and three All-Star appearances, because of chronic knee problems.
"That deliberate but 'you're not going to be able to stop me' style," Allen said, his eyes squinting back the emotion behind his glasses. "Just a fantastic basketball player, not just a scorer but a passer, a rebounder, a heady player. Players like that don't come along very often. I would always chat with Brandon in the locker room."
The Blazers had declared Roy the team's likely starting two guard two weeks ago, only to have Roy tell the team he was stepping away from the game the day before training camp opened.
"To get that news when we thought he was going to be in training camp the next day," Allen said, shaking his head. "That was a body blow."
Allen knows a body blow. He's beaten cancer, battled a heart condition and felt the full force of the NBA media turn against him. And, for once on Monday, he stood tall and took some lumps from the media. When the conversation closed and the game finally tipped off, the fact that Allen had consented to let strangers into the dungeon with him, if only for a preconditioned half-hour, was a bigger surprise than anything that he said.

Many thought that door had been closed and locked for good.