Posted by
Ben Golliver
.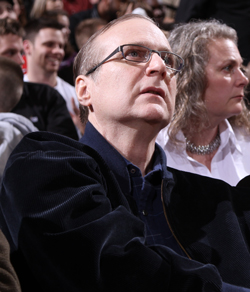 Dead the noise.
Portland
Trail Blazers
owner Paul Allen says his team is not for sale.
The billionaire co-founder of Microsoft addressed a select group of reports prior to the Blazers' preseason opener on Monday night, and left no doubt about his immediate commitment to his basketball franchise.
"I have no plans to sell the team," Allen said.
The owner of a small-market team, Allen took a public hard-line during lockout negotiations, which
fueled speculation
that his stances were formulated out of a desire to increase his franchise value in anticipation of a sale. While Allen ruled out any immediate plans, he did hedge when asked to make a specific, long-term commitment to owning the team.
"There's so many things that go with it," Allen said. "Me, my health is a factor, other things are factors. I think at some point if I felt things were getting stale or if we were going to be a lottery team forever [or if] we went through a rebuilding process. Some of those years are tough, when you're winning 20-some games or whatever, those are tough years. If I felt like we were going right back into that, that would be a challenge."
Rather than rebuilding this season, Allen has reinvested in the Blazers by using the amnesty clause on guard Brandon Roy and quickly moving to sign free agents
Jamal Crawford
,
Craig Smith
and
Kurt Thomas
to fill out his bench. But he didn't necessarily rule out the rebuilding option for good.
"I can't give you a definitive answer because I think every owner at some point thinks, 'OK, what's the future going to be?' You're starting to see some of the San Antonios and the Lakers who are getting towards the end of their championship windows and they're going to have to rebuild. Other people may decide… every year there's teams that have new ownership. We've got some new ownership in the league this last year."

Allen has battled, and beaten, non-Hodgkin's lymphoma in recent years and has also dealt with a heart ailment.

For now he's hanging in there.

"Good," Allen said. "I have periodic check-ups coming up in January but so far everything has been clean. Obviously I've gone through a lot of stuff these last few years. Coming down to the [Blazers] games helped me get through that process. The heart operation, the chemo[therapy], all those things. I feel in some ways closer to the team because of some of those periods."