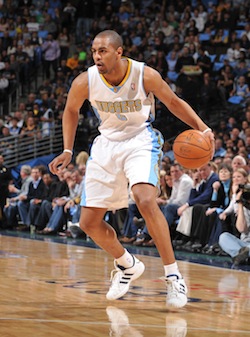 Posted by Royce Young
One of the last big pieces of the free agency puzzle has finally found its home. And it's right where it was last season.

According to ESPN.com
, guard
Arron Afflalo
has re-signed with the
Nuggets
for five years, $43 million. That means between Afflalo and Nene, the Nuggets have spent some $110 million this offseason. But it also means they've inked a long-term core for the next number of seasons.
Afflalo, 26, was a restricted free agent and considered by many to be maybe the top guard on the market. Multiple teams coveted his services, but the Nuggets were planning on matching any offer and with no one signing Afflalo to an offer sheet, Denver went ahead and took the lead on its own.
The Nuggets had a great need for Afflalo with Wilson Chandler and J.R. Smith stuck in China for the time being. Denver recently acquired
Rudy Fernandez
and
Corey Brewer
, but Afflalo will likely fit in as one of Denver's top three players this season. Between him, Nene,
Ty Lawson
and
Danilo Gallinari
, Denver has a group fo young players to build around.
Obviously it's a good signing for Denver, but the question is whether or not Afflalo is really worth that kind of money. Five years, $43 million is a pretty major number for a guy like Afflalo that averaged 12.6 points per game and a PER 13.61. And that's by far his best season to date. He's an elite perimeter defender and a long athletic guard, but more than $8 million a season for him is a high price tag.
Not to say he's not worth it to Denver, because he probably is, especially in their situation. Like I said, Afflalo might have been one of the top two or three free agent targets period in this whole class. But a lot of that was probably because he was seen as a value pickup.
Now the question becomes if Denver can pay out Nene, Afflalo and then add Ty Lawson and Gallinari who are up for new deals soon. And now how much do you have to pay those two? The Nuggets are really committing to this group, but it's decidedly without a bonafide star play. Maybe Gallinari is that guy, but maybe not. The team seemed to thrive on that team-ball aspect last season, but is it good for sustainable success?