Posted by
Ben Golliver
.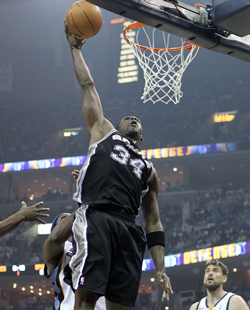 One of the NBA's oldest players is done in San Antonio.
The San Antonio Express-News reports
that the
Spurs
officially waived veteran forward
Antonio McDyess
and avoided guaranteeing the rest of his 2011-2012 contract on Monday.
The Spurs had until the end of business Monday to guarantee the other half of veteran big man Antonio McDyess' $5.2 million contract, but they won't drag the process to the end of the day. The teams acknowledged that McDyess won't be back, and the club will get to remove $2.6 million, the non=guaranteed portion of his contract, off its player payroll for the 2011-12 season.

"This was not at all how I wanted it to end, but signing here was one of the best things I did in my career," he said then. "I wouldn't trade these two years for the world, one of the greatest times of my whole career. I just wish we would have gone farther."
The paper reports that McDyess announced after the 2011 playoffs that he planned to retire.
McDyess, 37, was a 15-year NBA veteran who played for the Denver
Nuggets
, Phoenix
Suns
, New York
Knicks
and the Detroit
Pistons
prior to joining the Spurs in 2009-2010. Once a premier athlete and 20-points, 10-rebound producer, McDyess transitioned smoothly into a savvy veteran role as knee injuries and age caught up with him. For his career, McDyess posted career averages of 12.0 points and 7.5 rebounds per game in 1,015 appearances.
His departure leaves San Antonio short-handed in the frontcourt. In addition to perennial All-Star
Tim Duncan
, who is 35-years-old and in the final year of his contract, San Antonio's frontline rotation is expected to include 3-point specialist
Matt Bonner
and relatively untested Brazilian big man
Tiago Splitter
.