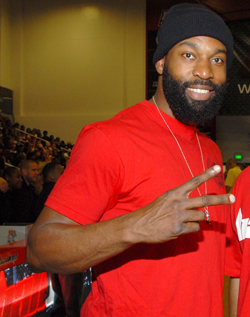 Posted by Royce Young
Update:
The
Knicks
have officially announced the signing. Also, the
New York Times reports
that Davis signed for the veteran minimum under the veteran exception, which means the Knicks still have the room exception granted under the new CBA and are expected to continue their pursuit of James Posey, recently amnestied by the
Pacers
.
*****
After using the amnesty clause on
Chauncey Billups
, the Knicks have been hunting a new starting point guard.
Mike Bibby
recently signed, but that's not exactly the answer.
Baron Davis was amnestied by the Cavs and cleared waivers, opening up the opportunity for him to sign anywhere. And that anywhere has turned out to be the Knicks,
according to ESPN.com
and confirmed by Ken Berger of CBSSports.com
With the Knicks being well over the cap, the deal had to be for the veteran minimum or the "mini mid-level" the Knicks have.
According to SI.com
, it is indeed for the $2.5 mini mid-level.
Which is why this makes a lot of sense for New York. It's a low risk, potentially high value signing. Davis still has a lot of game left, it just comes down to motivation and health. And with him being in New York playing on a solid Knicks team, you have to think he's going to be ready.
He's dealing with a back injury though, and could be out up to 8-10 weeks. However, after being amnetied by the Cavs, that timetable miraculously dropped to 4-6.
Other teams reportedly going after Davis were the
Heat
and
Lakers
, so the Knicks landing their target to likely start once he's healthy is a big move. Not to say Davis is going to be a star or anything, but considering the options right now for New York, Davis is about as good as they could do in their situation. Bibby is a nice veteran backup,
Toney Douglas
isn't a point guard and
Iman Shumpert
is mostly an unknown. Davis could at least step in and handle the offense.
Which shouldn't be all that difficult considering
Carmelo Anthony
and
Amar'e Stoudemire
are part of it. Where the Knicks will likely continue to struggle is the defensive end. Davis isn't known as much of a defender, so the addition of
Tyson Chandler
could be very important to seal off all those drives given up by Davis and Carmelo.