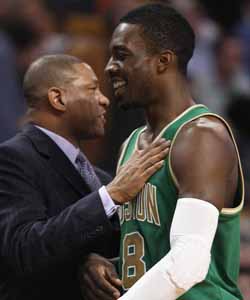 By Matt Moore
The
Celtics
announced Saturday morning that forward
Jeff Green
will miss the entire 2011-2012 season after surgery to repair a heart condition. During a stress test in his physical upon agreeing to his one-year, $9 milllion deal with the Celtics, doctors discovered an aortic aneurysm, which involves swelling in a valve in the heart. He will undergo surgery, miss the entire year, and the Celtics announced he should be able to return to action for the 2012-2013 season assuming everything goes well with surgery and subsequent treatment.
With no symptoms, discovering the condition may prove to be a blessing in disguise for Green and his long-term health. For the Celtics, they move forward with no legitimate back-up small forward and a dangerously thin bench. The Celtics traded
Kendrick Perkins
for Green and the
Clippers
protected 2012 draft pick at last season's trade deadline. Despite considerable criticism for the move, Celtics GM Danny Ainge has repeatedly defended the move indicating his belief in Green's long-term value to the franchise.
Due to Green's failure to pass his physical,
the Boston Herald reports Green's contract has been voided
.
The Celtics official press release:
The Boston Celtics announced today that forward Jeff Green will undergo surgery on Monday January 9, 2012 at the Cleveland Clinic and will miss the 2011-12 season.

A team of leading cardiac specialists who consulted with Green and the Celtics indicated that surgery should completely repair Green's condition and that he can expect to resume his NBA career next season.

During his team physical Friday, December 9th, an aortic aneurysm was detected. As a precautionary measure, Green underwent extensive additional testing, after which doctors recommended surgery.

"While we are saddened that Jeff will not be able to play this season, the most important thing is his health, and we were fortunate to have access to an amazing team of specialists to evaluate Jeff's case," said Celtics President of Basketball Operations Danny Ainge. "The entire Celtics family supports Jeff during this difficult time in his career."

At Jeff's request, neither Jeff nor the Celtics will have any additional comment at this time.