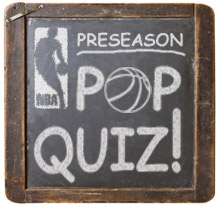 Posted by Royce Young

Fall is here, hear the yell, back to school, ring the bell ... Wait, we're almost to winter. What happened? Who cares, there's a season! The NBA season is right around the corner, and NBA training camp starts in just a couple weeks. To get you ready for the season, we've put together some pop quizzes. Pencils ready? We continue our Pop Quizzes with this question...

Who gets the last two seeds in the West?
The Western Conference is wide, wide open. And I don't just mean at the top. There are a pretty set top six teams in the West -- Oklahoma City, Memphis, Dallas, San Antonio, the
Clippers
and the
Lakers
. Nobody's really going to argue too much with that.
But my question is, what is going to happen with spots seven and eight? Here are the remaining teams: Minnesota, Denver, Phoenix, Portland, Utah, New Orleans, Houston, Golden State and Sacramento. Two of those have to go to the playoffs (assuming of course the top six go as planned). Who, I mean
who
, has the edge there?
The Veterans
Let's start with teams that were there last postseason. That includes Portland, New Orleans and Denver. Obviously you can cross the
Hornets
right off, but of those nine teams vying for the two spots, you'd have to think Denver and Portland have the best shot. The Blazers took a massive hit with Brandon Roy's retirement, but that team made the playoffs pretty much without him anyway last year. And with
Jamal Crawford
coming in,
Craig Smith
beefing them up a little inside, Ray Felton running the show (as long as he's not 300 pounds),
Gerald Wallace
doing all the little things and a legit star in
LaMarcus Aldridge
, I'd say Portland will probably punch one of those spots.
The
Nuggets
? That's iffy. Bringing back Nene to go team with
Danilo Gallinari
and
Ty Lawson
gives Denver a solid core, but this team was ravaged by the lockout. J.R. Smith -- gone. Wilson Chandler -- gone. Kenyon Martin -- gone. It wasn't a guarantee those guys were coming back anyway, but
Rudy Fernandez
and
Corey Brewer
aren't really ideal replacements. Plus, this team is breaking in a lot of new stuff and with just 66 games, there's not a lot of time to get it sorted out. But among the contenders for No. 8, Denver will definitely be in the mix.
The Middle Class
The teams that are consistently solid, have a star or at least a quality roster and can compete with pretty much anyone on a night-to-night basis. I'd put Phoenix, Houston and Golden State in this group.
Steve Nash
gives Phoenix a chance every night, Houston went 43-39 last season and if the
Rockets
can add a big man -- granted, only
Samuel Dalembert
is really left -- they could be a solid seven or eight-seed and Golden State has too much offense to ignore.
It's a question with the
Suns
whether or not Nash can hold up in this schedule, if the Rockets will in fact get that big body they need and if the
Warriors
will just be themselevs and only play on one side of the floor. But any of these three could make a run one of those two spots and it wouldn't surprise me.
The Bottom
The Hornets are intentionally lowering their bar, despite getting a decent haul of talent from the Clippers. Really,
Jarrett Jack
,
Eric Gordon
,
Al-Farouq Aminu
,
Emeka Okafor
and
Chris Kaman
isn't a
horrible
core. But not being horrible doesn't mean you won't still struggle against the depth of the West. Because the Hornets currently have six or seven D-Leaguers on the roster, all with a pretty good shot at the final team. That's not good.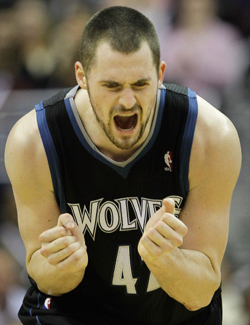 The
Jazz
just aren't there yet either. They need a scorer badly.
Al Jefferson
,
Paul Millsap
and
Derrick Favors
give them a nice frontcourt, but
Devin Harris
,
C.J. Miles
and
Gordon Hayward
aren't really going to light it up.
I like what the Jazz are doing, but they are built entirely around four frontcourt players. They need to dump
Mehmet Okur
and maybe even Millsap or Jefferson to get a scorer (
Danny Granger
?) unless they aren't sold on their lottery pick
Enes Kanter
. It's a rebuild post-Sloan and post-Deron and they're likely to be a whipping boy this season.
The Sleepers
By process of elimination, you can figure out who are leftover and I'm even scaring myself with this. But the
Kings
and
Timberwolves
could both be set up for a quiet playoff push this year.
Start with the Kings.
Tyreke Evans
is finally healthy. He's finally in a real position playing shooting guard. Who knows what Jimmer will bring, but if all that fails, Evans can take over handling duties and bring
Marcus Thornton
in, who is instant offense.
DeMarcus Cousins
could be dominant if he keeps his head straight,
Chuck Hayes
is a classic scrapper,
Jason Thompson
and
J.J. Hickson
give them some depth. Who knows, in a 66-game schedule where crazy things happen, maybe the Kings start hot taking advantage of teams that didn't get a full camp together and use their youth to stay fresh through the crammed season. I could see it happening.
The Wolves? It's time for them to show some sign of improvement. It has to happen. Rick Adelman is a major addition because he's going to get these young players at least focused on a system and structure. David Kahn has built a mess of a roster but give him credit for one thing: It's got talent. There's a big if in
Ricky Rubio
and how much of a contributor
Derrick Williams
will be, but
Kevin Love
,
Anthony Randolph
,
Wesley Johnson
,
Michael Beasley
-- I can't believe I'm saying it, but I don't completely hate this roster.
It's all about Adelman though. I'm really believing that he makes a difference in figuring out how the pieces fit. Because if not, the Wolves could win 15 games. But if things click a bit and Rubio and
Luke Ridnour
run the Adelman offense well, could this team win 30 games? And with the back end of the West looking so iffy, could it be enough to sneak in? I'm not saying I believe it, but I could see it.