Posted by Ben Golliver.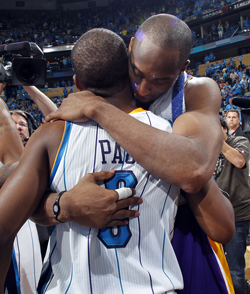 In a rare role reversal, the
Lakers
are playing bridesmaid to the
Clippers
this week in Los Angeles.
After decades of dominating in the headlines and the standings, the Lakers lost out on coveted All-Star point guard
Chris Paul
, who was
finally traded
by the New Orleans
Hornets
to the Clippers after multiple proposed deals with the Lakers were blocked by NBA commissioner David Stern.
Lakers All-Star guard
Kobe Bryant
, who is used to being the center of the Southern California sports universe, isn't happy about it.
ESPNLA.com reports
that Bryant blames other owners from around the NBA for keeping Paul out of his clutches.
"I think other owners did not want the Lakers to make significant improvements again," Bryant said after practice Thursday, hours before Paul's introductory news conference with the Los Angeles Clippers, less than five miles across town.

"We always contended as players that the lockout was really more so about the owners fighting amongst themselves, which is what you just saw [with the vetoed trade]," Bryant said. "You got Chris Paul coming here and the other owners weren't with that, because you don't want another great player coming to L.A., and all of the sudden Los Angeles has another player that can carry them on well after I retire. So, it's more about the owners bickering amongst themselves."
Bryant's bitterness is totally understandable. The entire Paul trade process went down under the sketchiest of circumstances. Stern winds up
being a major loser
because of the means and Bryant's Lakers lose because of the ends.
Life will move on, though, especially with the 2011-2012 season set to begin in just 10 days. The talk will quickly turn to which team is better: Lakers or Clippers? Assuming full health, the Lakers are still deeper and more talented but the Clippers are quickly going to be quick risers. Los Angeles is the Lakers' throne to lose, for now, but this role reversal could unfold even more dramatically over the next 6-9 months.