Posted by Ben Golliver.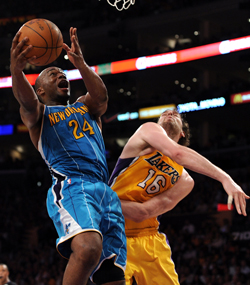 The biggest chip fell on Wednesday and now the rest of the pieces can finally get put into place.
After nearly a week of trade talks, the New Orleans
Hornets
moved All-Star point guard
Chris Paul
to the Los Angeles
Clippers
for a package that includes guard
Eric Gordon
, forward
Al-Farouq Aminu
, center
Chris Kaman
and an unprotected 2012 first round draft pick that originally belonged to the Minnesota
Timberwolves
on Wednesday evening.
Thursday morning,
Ken Berger of CBSSports.com reported
that the Hornets inked power forward
Carl Landry
to a 1-year contract worth $8.75 million.
Landry, 28, was originally acquired by New Orleans in a 2011 trade for guard
Marcus Thornton
. He stepped into the starting lineup when All-Star forward
David West
suffered a season-ening knee injury, and averaged 11.9 points and 4.6 rebounds per game last sesaon.
The deal comes after Landry was linked to a host of NBA teams during the lockout and free agency periods.
Original suitors
were said to be the Milwaukee
Bucks
and Indiana
Pacers
, with the Portland
Trail Blazers
and New Jersey
Nets
reportedly
emerging as players
later in the game.
This is a shrewd deal for both sides. Landry's production doesn't really warrant a $8 million plus per year salary, but he was sure to get multi-year offers from other teams that would have provided him a great overall dollar amount. By paying a premium on a 1-year deal, New Orleans fills a critical hole in its frontcourt -- created when West
signed a 2-year, $20 million deal
with the Indiana Pacers -- while still retaining financial flexibility for next summer's free agent market. As currently constructed, the Hornets should be well under the salary cap next summer and Landry's addition ensures that's the case.