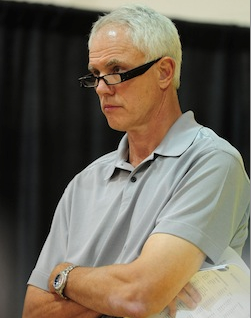 Posted by Royce Young
The
Lakers
are mad. Their roommates just walked in and ate their leftovers out of the fridge.
Chris Paul
eventually found his way to Los Angeles, but not to play in forum blue and gold. Instead, he'll have on the red, white and blue representing the
Clippers
.
And the Lakers are
mad as hell and they're not going to take this anymore
. Or at least they want people to know they're a little perturbed at the way this whole thing was handled.
Via the L.A. Times
:
The Lakers were privately fuming Wednesday, according to a person with knowledge of their front office, when Paul, the New Orleans point guard, ended up in Los Angeles six days after the NBA vetoed the Lakers' trade for him.

Lakers General Manager Mitch Kupchak declined to comment through a spokesman but earlier this week said the NBA's blockade was "completely unexpected."

"We did the best we can to express our displeasure," Kupchak said Monday.
The Lakers do have a reason to be angry. They completed what they thought was a good deal with the
Hornets
, sending
Pau Gasol
to Houston and
Lamar Odom
to New Orleans in exchange for Paul. Hornets general manager Dell Demps signed off on it, at least according to initial reports. It appeared that it was all a done deal.
But the league swooped in, vetoed the deal for "basketball reasons" and everyone was left to figure out what just happened. Including the Lakers who then traded Odom to the
Mavericks
for a lonely trade exception.
So let's recap: The Clippers get Chris Paul to team with
Blake Griffin
and the Lakers deal one of their best players for a piece of paper. I don't really know who the Lakers should be more angry with -- the league or themselves. Because the reality is, the Clips had much better pieces to complete this deal. The Lakers didn't have much.
It seems like common sense that the Lakers have more up their sleeve and will make a likely run at
Dwight Howard
and if that happens, they should be thankful the league saved them. Because Howard with Kobe is much better than CP3 and Kobe. But the Lakers don't want to hear about that right now because CP3 is with the Clips, the
Magic
pulled Howard off the market, Lamar Odom is gone and the Lakers are left with their hand in their hand pointing a finger at the league.
What a strange, strange turn of events.