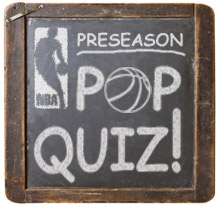 Posted by Royce Young
Fall is here, hear the yell, back to school, ring the bell
... Wait, we're almost to winter. What happened? Who cares, there's a season! The NBA season is right around the corner, and NBA training camp starts in just a couple weeks. To get you ready for the season, we've put together some pop quizzes. Pencils ready? We continue our
Pop Quizzes
with this question...
Can the Clippers contend for the title this season?
We're all already having daydreams of
Chris Paul
lobs to
Blake Griffin
for 1080 dunks. And while that's hard to put out of the brain right now, the real thing we should be wondering about is if the Clippers -- yes, the Los Angeles Clippers -- have just emerged as a legitimate championship contender.
Notice I didn't say playoff contender. Because that should be a given at this point. CP3 dragged a
Hornets
team playing
Marco Belinelli
and
Aaron Gray
major minutes into a six-game playoff series with the
Lakers
. So add him to Griffin, and you've got a real-deal playoff team. The first one the Clippers will have had since 2005-06.
CP3 traded to the Clippers
But again, that's not really the question I'm asking. I'm asking if the Clippers are in the same class as the
Thunder
,
Mavericks
,
Spurs
,
Grizzlies
and (gasp!), the Lakers.
The answer: No, not yet. Close, but not there. Very close, in fact. If you start two All-Stars, you're in the conversation, at least. It comes down to this: Just look at the starting five. Paul,
Randy Foye
,
Caron Butler
, Blake Griffin,
DeAndre Jordan
. One of these is not like the other.
Had the Clippers somehow been able to convince the league to take
Eric Bledsoe
instead of
Eric Gordon
and you're talking about a team with enough firepower to topple anyone. But with a major hole at the 2-guard, the Clippers are still one of those teams hunting pieces. They need more frontcourt depth still. Jordan is a blossoming defensive presence and will benefit more than anyone from CP3's point guarding, but behind him is... well... nobody at the moment.
Craig Smith
could still be re-signed and there's
Brian Cook
and rookie
Trey Thompkins
. That's not much.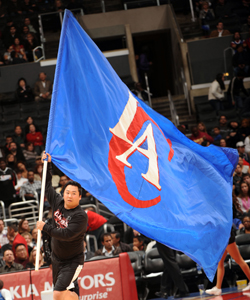 They still need some depth behind Butler, who is coming off a massive knee injury.
Al-Farouq Aminu
had the length and potential to be a nice defensive stopper, but now it's just
Ryan Gomes
, a decent veteran role player, and
Travis Leslie
, an unproven rookie.
This isn't like the
Knicks
last season who got
Carmelo Anthony
but still weren't in a good position to win big. They needed a lot. The Clippers need a little. Unlike last season's Knicks, this Clips team makes a lot more
sense.
An All-Star point guard feeding to an All-Star big man with a good wingman to help spread the floor with a rim protector and rebounder handling business on the inside. The make-up of the roster, sans some depth and a piece or two, just fits.
You can be sure general manager Neil Olshey is working the phones right now seeing what he can get for
Mo Williams
though. And they also have a $2.5 million "under the cap" exception. Possibly the Clips could use dangle both of those assets to strengthen their bench and add some depth. But it's not going to solve the hole at 2-guard.
It'll be interesting to see how Vinny Del Negro uses
Chauncey Billups
, though, and that alone could make a major difference in where the Clips land. It's hard to imagine Billups sliding into a 2-guard position, but if anyone on point guard roll-sheet could potentially do that, it's him. Have Bledsoe play behind CP3, Billups split time with Randy Foye at the 2 and then wait until next summer to really upgrade the position.
Because that's truly where the Clippers are. They just moved from a world where with Gordon, Griffin and Jordan they were a "wait until later" team. They aren't "wait until now" quite yet, but they're in the boat of just needing another piece or two. Which is a far cry from where the long, painful history of the Clippers has been.
Are they going to challenge in the West? Not yet. But the summer of 2012 could turn this team into a monster. The Clippers are finally entirely relevant and if things are managed well -- again, this
is
the Clippers here -- this team could stay that way for a number of years. Griffin is just 22. Paul is 26. Jordan is 23.
It's a good day in Clipperland. The fact we're even asking this question should really say it all. I mean, this is the
Clippers
, remember? No more jokes, no more laughing -- these guys are for real now. They shouldn't start reserving a spot in the Staples Center ceiling for a banner of their own quite yet, but for once, they can at least start dreaming about one.