Posted by Ben Golliver.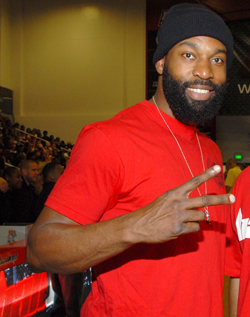 The man who became the butt of hundreds of "he looks homeless" jokes is now officially without an NBA home, at least for the next few days.
The Cleveland Plain-Dealer reports
that the Cleveland
Cavaliers
have elected to waive uber-hipster point guard
Baron Davis
using their amnesty clause. The decision does not come as a surprise but there was plenty of speculation as to whether Davis would stay or go, given the lack of talent on Cleveland's roster and the fact that this is sure to be a rebuilding year. The paper reports he experienced back pain associated with a "bulging disc" and is "expected to miss at least several weeks."
Davis was on the books for $13.9 million for 2011-2012 and had a player option worth $14.8 million for 2012-2013. The Cavaliers get to remove both of those numbers from their books, meaning they are positioned to be a fairly major player in free agency during the summer of 2012.
In the meantime, the 2011 NBA Draft's No. 1 overall draft pick
Kyrie Irving
should take on a major role. Irving is a polished all-around point guard who is mature beyond his years, and the Cavaliers have
Daniel Gibson
and
Ramon Sessions
to make sure his transition to the pro game is a smooth one.
Newsday reports
that Davis might be headed to the Big Apple, as the veteran point guard and the New York
Knicks
share "mutual interest." For that to happen, Davis must go unclaimed during the blind amnesty bidding auction that is restricted only to teams that are currently under the salary cap. If he makes it through that process without being claimed, he would be an unrestricted free agent and could sign wtih any team. The Knicks, having given up on their pursuit of New Orleans
Hornets
All-Star point guard
Chris Paul
to sign center
Tyson Chandler
, are in desperate need of talented backcourt bodies.
Davis, 32, was traded to the Cavaliers along with the draft pick used to select Irving by the Los Angeles
Clippers
last season in a deal that sent point guard
Mo Williams
to L.A. In 58 games for the Clippers and Cavaliers during 2010-2011, Davis averaged 13.1 points and 7.7 assists per game.