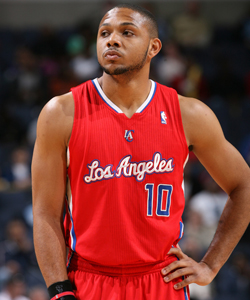 By Matt Moore
There was no winning for New Orleans. No matter what, the
Hornets
are looking at losing the best player in franchise history. You don't replace
Chris Paul
. The Hornets were going to come away from trading him a worse team, facing a few years of terrible seasons. It's not what you want.
But if we take the conditions, a small market team with no leverage facing an uphill battle to even get some sort of value from the trade, with the league's overbearing hands all over it, and the roster as currently constructed,
this is a great trade
. The best trade you can make with CP3 is to not trade CP3. But if you're going to have to trade Chris Paul, you don't want a 30-year-old no-lift power forward, a 30-year-old combo forward who struggles with focus outside of L.A. and had no interest in playing in New Orleans, and a lesser version of
Eric Gordon
, along with the
Knicks
' 20-ish pick.
No, you want a star young player, like Eric Gordon, who has a great shot of making the All-Star game once the Hornets build anything around him. He's the franchise now, which he was not going to be in Los Angeles. You want a talented wing. Lost in this is the fact that Al Farouq-Aminu has everything you look for in a young wing. Great length, good defensive ability, decent hands. There's a lot of growth needed, but he's got the capacity to be a capable small forward in a few years. And you want to clear salary, which
Chris Kaman
's contract allows.
Beyond, that, consider this. The Hornets were going to be terrible with Paul. They will be more terrible without Chris Paul. But, if you're going to be terrible, you want to be terrible this season with the 2012 draft class in play. This class is as good as any since 2003, and with the Minnesota pick they acquired from Los Angeles, the Hornets are in position to have two picks potentialy in the top five, likely in the top ten, and definitely in the lottery.
That means some combination, if they were to tank out, of Anthony Davis - Harrison Barnes - Jared Sullinger - Michael Kidd-Gilchrist along with some combination of Bradley Beal - Marquis Teague - Perry Jones - Quincy Miller - Patric Young. That's how you rebuild a franchise quickly. Young star (Gordon) plus talented athlete (Aminu) plus two top ten draft picks in a quality draft. Clear the cap, add young players, maintain flexibility, build in the
Thunder
model.
One veteran who expires next year. One star with high upside. One athlete with growth potential and a small contract. A pick with high value. It's a sad day for New Orleans, who loses its franchise player, and has to go through the pains of rebuilding. But after all the hand-wringing, all the consternation about the league's involvement, it got what was best for the franchise. The Hornets have to make the right decisions for it to pay off. But they have what they need to move on.
The circus is over. Time to build a new carnival.
Grade: A