Posted by Ben Golliver.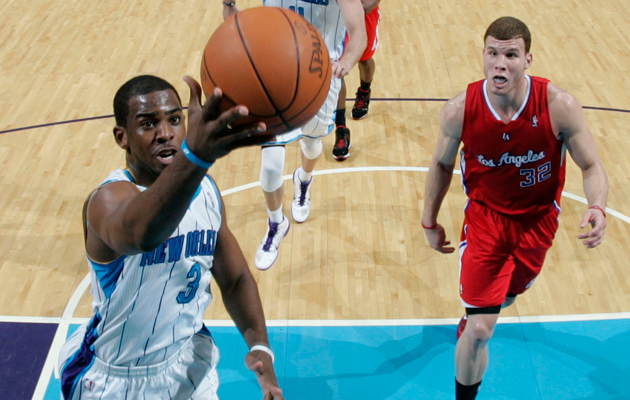 Ken Berger of CBSSports.com reports that the New Orleans Hornets and Los Angeles Clippers have struck a deal to send All-Star point guard Chris Paul plus two picks to L.A. for guard Eric Gordon, forward Al-Farouq Aminu, center Chris Kaman and the Minnesota Timberwolves' unprotected 2012 first round pick.
Let's break down the winners and losers of this blockbuster, which comes after nearly a week of rumors and failed deals between the Hornets, Lakers and Rockets and the Hornets and Clippers in which NBA commissioner David Stern stepped into veto multiple frameworks in his role as decision-maker for the league-owned Hornets.
Winners: New Orleans Hornets
What a difference a few days makes. The NBA's trade negotiations mirrored its labor negotiations, as the league toed a seemingly impossibly hard line before emerging with pretty much everything it had been asking for. Losing a franchise player has become an unavoidable reality for small-market teams in recent years, and the only way to win the scenario is to recognize and process that fact early, hone in a desired wish list of assets and pursue those assets aggressively.
CP3 traded to the Clippers
Failed trade talks with the Los Angeles Lakers got very ugly last weekend, and there's no question some relationships have been ruined for the foreseeable future because of the NBA's vetoing role. The end doesn't justify the means here but it certainly makes for a less bitter pill to swallow for the Hornets' management, coaching staff and future owners.
The Paul haul is excellent. It includes all the requisite ingredients: a budding star (guard Eric Gordon), an absolutely incredible draft pick that is sure to result in a top-flight player (Minnesota's unprotected 2012 first rounder), a talent with some upside (forward Al-Farouq Aminu) and a more than serviceable player on a massive expiring contract (center Chris Kaman). The biggest risk here: getting Gordon to commit long-term to being the franchise guy on what is sure to be a long rebuilding process. Other than that, this was a textbook result even if the game plan was as unorthodox as it gets in the NBA.
Winners: Los Angeles Clippers
The Clippers acquire the rights to arguably the best all-around point guard in the game, at least for the next two years. Paul gives them a delightful All-Star backcourt/frontcourt combination with Paul and forward Blake Griffin. If you thought Blake manufactured highlights easily last year, just wait until he gets things clicking with Paul. With center DeAndre Jordan in place, the Clippers have a core that's more than ready to make a run to the playoffs for just the second time in the last 14 years.
Their roster work is far from done. With four point guards now on the roster -- Paul, Mo Williams, Chauncey Billups and Eric Bledsoe – and major holes at the two and three, something will have to give. Ideally, further trades will be coming down the pipeline and role guys will need to step up in a big way.
The Clippers, on balance, win here because of the instant legitimacy and credibility landing a star like Paul connotes, plus the extra bonus points for beating out the crosstown Lakers. They will likely be the most exciting show in town and have reasonable flexibility to be players on the free agent market next summer, too. This team just got way, way more interesting.
Losers: Los Angeles Lakers and Houston Rockets
This week will go down in NBA history no matter how the teams involved proceed over the next few years. The stalled 3-team deals involving the Rockets, Lakers and Hornets led to Houston missing out on Pau Gasol and striking out on their free agency targets (Nene Hilario, Marc Gasol, etc.) and caused the Lakers to make a panic trade of talented forward Lamar Odom to the Dallas Mavericks, one that angered multiple Lakers players and is surely already being regretted in private. There's a bright side for the Lakers: they can always compete for Dwight Howard and other big-name free agents. As for Houston? Who knows? This could have been the best shot and the next few years could easily wind up being time-buying and wheel-spinning.
Winner: Blake Griffin
If you can't get enough of Blake Griffin, good news: you're about to get 10 times more of him. If you're sick of Blake Griffin, bad news: he will be inescapable. Griffin is funny, personable and endlessly talented. Adding Paul at this stage of his career could vault him into the stratosphere.
Loser: Chris Paul
Paul is a pro's pro and will say all the right things, but playing in Staples Center while donning that Clippers jersey won't be the same as it would have been running point alongside Kobe Bryant. He now gets the burden of undoing decades of poor management rather than the burden of carrying a major torch that's been passed from superstar to superstar since George Mikan. At least he's out of New Orleans, which is no small feat, but this clearly could have played out better for him in so many ways. He wants to "win now" and the Clippers are more "win soon" than "win now." A 2-year commitment provides some certainty, but not that much. Another rumor zoo could await in the not-too-distant future.
Winner: Hornets Coach Monty Williams
One of the league's youngest head coaches and a man who built his reputation on player development gets two talented youngsters in Gordon and Aminu plus a third top talent with the draft pick. Perhaps more importantly, he gets a fresh start and a slate wiped clean. As straight of a shooter as you'll find in the NBA, Williams deserved better than an ownership mess and meddling from the NBA. He wants to coach and that's what he'll get to do for at least the next few years.
Loser: Clippers Coach Vinny Del Negro
Forgotten man, say hello to great expectations! No longer will mediocrity be accepted. Winning now is the expectation and Paul has the clout to make Del Negro disappear if the chemistry fit isn't quite right.
Winner: Clippers owner Donald Sterling and GM Neil Olshey
You made it this far and you're asking yourself, "Holy ****, the Clippers really just got Chris freaking Paul?" Yes. Yes, they did.
Loser: Hornets GM Dell Demps
Initial reports indicate that the NBA stepped in to directly broker this trade, potentially usurping Demps' authority and doing certain damage to his reputation, which was spotless up until the past week. It's unclear how or if that damage will ever be undone. Top basketball executives spend years – decades, often – getting to a pinnacle job and to watch that work go out the window because of Stern is not fun at all. Hopefully Stern doesn't phone in the Hornets' 2012 NBA Draft picks to himself. The first step in making things right for Demps is to find a new owner, one that is independent of the NBA, immediately.
Winner: DeAndre Jordan
One of the league's most prolific dunkers and most efficient shooters could subsist entirely on lobs and putbacks next season and still not be declared overpaid after signing a 4-year, $43 million contract extension this week.

Loser: Eric Gordon
No one can replace Paul in New Orleans, not after four All-Star games in six amazing seasons. Gordon becomes the man unlucky enough to have to try, though, and the potential for a protracted dispute over his future with the Hornets looms in the distance. If he indicates, directly or indirectly, that his heart is elsewhere he will be in for a bumpy ride in his new hometown. Ultimately, playing in Los Angeles is one of the most desirable things a basketball star can ask for, doubly coveted because of Griffin. Now, Gordon must embrace chaos.

Loser: NBA Commissioner David Stern
Stern's NBA career is winding down and this will wind up being far more than a footnote on his legacy, given the many, many implications of his handling of the trade as overseer of the league-owned Hornets. The conflict of interest is too great and the harm done to the losers, as laid above, is irreversible. Everyone's glad this sage is over but the ill effects will be felt for years.