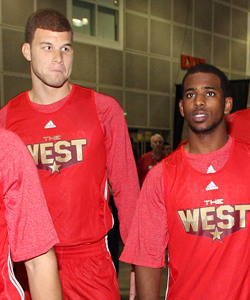 By Matt Moore
You only get a shot at
Chris Paul
once. That's it. This opportunity will not come again, and honestly, a chance at a player of his caliber only comes along once every generation. But the trade --
as reported by Ken Berger of CBSSports.com
-- that the
Clippers
pulled sending
Eric Gordon
,
Al-Farouq Aminu
,
Chris Kaman
, and a first-round pick to New Orleans for the best pure point guard in the league isn't about that. It's about what fits best with the future of the franchise. And the future of the franchise is
Blake Griffin
.
Sure, you want shooters for the kickout, someone to take the pressure off Griffin. But you can get those. Shooters abound. What don't abound are top level point guards who understand the pick-and-roll as well as any guard in the league. That's CP3. That's Chris Paul. Griffin will benefit more from Paul than he will from Gordon, and that was the kicker in this deal. While the haul for the
Hornets
is not only acceptable, but worlds better than the platter proposed in the original rejected trade, the gain for the Clippers is too great. They're in a position to win now, win in the future, win for the next decade.
CP3 traded to the Clippers
You have to keep Blake Griffin at all costs. The risk is too great that the team won't develop with Griffin, will stall out, and then watch as he departs, potentially to their neighbor at Staples. But this? This is a realignment. The Clippers have a shot, albeit a slim one, at changing the status quo that the Clippers are losers and the
Lakers
are winners. The Lakers didn't get Chris Paul. The Clippers did.
There's talk that Chris Paul may leave in two years (it's widely expected that part of the agreement involves Paul opting in for the 2012-2013 season and becoming a free agent in the summer of 2013 vs. next summer). That the Clippers could be left with nothing.
But you take that risk. You gamble that CP3-Billups (that move looks a lot better)-Caron Butler-Griffin-DeAndre Jordan is enough to compete, with an extra year to build around them, now as a top free agent position. You risk all of that because if you can't win enough with that group to convince Paul and Griffin to stay together, nothing will. No more aiming for the playoffs, for aiming for respectability, for trying to just be decent.
The Clippers have shot for the moon. The worst case scenario is the most exciting two years in the history of the Los Angeles Clippers. Greatness isn't made by being conservative; fortune favors the bold.
The Clippers made the bold move, and now they have Chris Paul.
Look up, there go the Clips.
Grade: A+