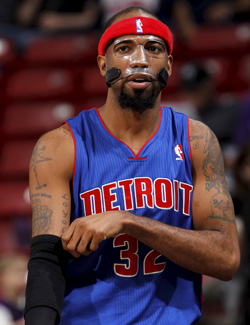 Posted by Royce Young
The
Bulls
have been hunting a shooting guard all offseason and it looks like they finally have one. It's not
Jamal Crawford
or one of the other bigger name guys, but it
is
a former champion.
Richard Hamilton has cleared waivers after being bought out by the
Pistons
last week and will likely join the Bulls Thursday after a two-year, $10 million deal is finalized. The AP reports Hamilton's deal is for three-years, $15 million. I imagine that last season is either a team option or only partially guaranteed.
Hamilton will likely step right into the starting role for Chicago, especially since it appears that
Keith Bogans
will be cut. (The Bulls have an option on him and he hasn't been in training camp yet this season.)
The Bulls have been searching for added scoring and while Hamilton is 33 (to be 34 in February) and has seen his numbers decline a bit in recent seasons, but he's still one of the best players moving without the ball and knocking down a jumper curling off a screen. And with
Joakim Noah
setting them and
Derrick Rose
drawing attention, Hamilton should have a good number of opportunities.
Hamilton shot only 38.2 percent last season and averaged a meager 14.1 points per game, but that honestly could be just about all the Bulls need. They need
something
next to Rose. They need something to serve as a logical middle man scorer between Rose and
Luol Deng
.
Carlos Boozer
is that guy some nights, but the Bulls won last season because of defense.
When it got to the playoffs, that wasn't enough. They needed an extra punch and really, 14 points a game could be just enough. And I don't think Hamilton's done with his production. Last season in Detroit was a different world with the team rebelling against John Kuester and Hamilton finding himself inactive for a lot of games. He wasn't happy. But now in a contending situation with the Bulls, he might find a little new life.
It honestly wouldn't shock me if Hamilton averaged something like 16-18 points a game on solid percentages. He can still play and is a great addition to the Bulls. Is he Jamal Crawford or a big target shooting guard? No, not anymore. But he probably doesn't have to be.