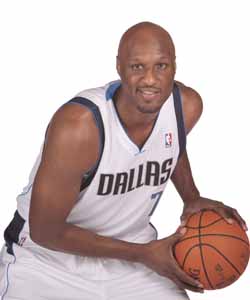 By Matt Moore
"This is a business."
That phrase is used more in professional sports each year than "I just want to thank God," "take it one game at a time," and "both teams played hard" all combined. It's like professional athletes, coaches, and management can never get tired of informing the world that they get paid to do this. And amazingly, that's supposed to explain away any and all decisions.
And for
Lamar Odom
, it's just not us.
Odom was so hurt when it leaked that he had been traded to the New Orleans
Hornets
from the Los Angeles
Lakers
in a deal for
Chris Paul
that was blocked by the league, he met with general manager Mitch Kupchak last weekend and requested a trade. Kupchak obliged by trading him to the world champion Dallas
Mavericks
for a traded player exception in what is being described as a "cash dump." Few believe that's the end to the Lakers' angle considering their remarkable ability to make moves to reload at a moment's notice. But the result is the same. Odom is no longer a Laker after six years, and he's not feeling good about it. On Tuesday he revealed exactly how he feels about it.
"This is the place I wanted to be,'' he said. "After I realized that I most likely wasn't going to be there, dallas was the one place where I thought I would be a great fit.''

Was he surprised the Lakers accommodated him?

"I think when you think about it, that kind of says it all,'' he said. "I guess it was just time from their standpoint I guess they just felt like to hell with it.''

"I told (Lakers management) that I'd be thankful if he could work with my agent, my representation so I could play for a team like the Mavs.

"It was just like overnight he told me they wanted to move me to New Orleans and we didn't feel like that was in our best interest.

"And how they did it. It wasn't about going to New Orleans, it was just about how they did it. I felt a little disrespected after being (in LA) for so long and going through so many things I felt like they could have just told me and I probably would have accepted it. If someone is telling you that you can't be here or there's no more room for you, you got to understand that. I think because it's just how they did it is the reason why I took it so personal.''
via
Lamar Odom: Hard part just starting for Mavericks | Dallas Mavericks Blog | Sports News | News for Dallas, Texas | The Dallas Morning
News
.
So yeah, pretty sure Jim Buss won't be getting a Christmas card from the Kardashians this year. Odom is not, did not, will not take this well. He was comfortable in L.A., it fit with his lifestyle, with his wife's lifestyle, with his general celebrity pursuits. He's in Dallas, playing for a contender, but beating L.A. may be just as high on his list of priorities.
Kobe Bryant
and other Lakers responded to the trade and Odom's feelings on it later Tuesday:
"Yeah. I know about that whole process. Not knowing about coach Brown and so forth and so on. But the Lakers do things a certain way. This is the way that they do it, and you can't take it personally. This is how they do business."

On whether he gets Odom feeling "disrespected"

"Yeah. You want to be told things before they obviously come out in public. Somebody that wins a couple championships with you, you'd think that's what would happen. But it's nothing personal. This is the way they go about doing it."

"Lamar is a sensitive guy, though. Takes a lot of things personally. He won't see it that way... You take it how you take it. But they've done it to him, they've done it to me, they've done it to Brian Shaw. It's nothing personal, it's just how they handle it… You can't take it personally."
via
Lakers react to Lamar Odom feeling disrespected - Los Angeles Lakers Blog - ESPN Los Angeles
.
A nice parting gift from Kobe, a crack about Odom's sensitivity. It remains to be seen whether Odom can fit into the Mavericks' locker room, a tight knit group that had beef with Odom and the Lakers last year during and after its sweep of the L.A. in the second round.
But one thing is for certain. Lamar Odom knows just how much of a business it is, and got a taste of why so many former players aren't close with the Lakers' organization. No one is bigger than the logo in L.A.. You can count your rings, but when the time comes, you'll have to count them somewhere else.
Now it's Odom's turn to see if he can exact a little revenge.