Posted by Ben Golliver.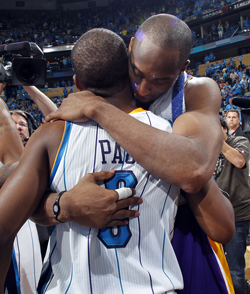 It's Los Angeles vs. Los Angeles in the
Chris Paul
sweepstakes.
CBSSports.com's Ken Berger reports
that the
Clippers
continue to be a possible trade partner, should the New Orleans
Hornets
finally relinquish Paul, their All-Star point guard, after days of rumored trade talks.
ESPN.com reported on Tuesday night
that the
Lakers
, a team that twice had potential three-team deals for Paul
struck down
by NBA commissioner David Stern last weekend, are back in the thick of it.
The Los Angeles Lakers, however, continue to loom as a potential destination, sources said, despite their apparent exit from the Paul sweepstakes on Saturday. The Lakers walked away from the table after multiple attempts to complete a three-team trade with the Hornets and Houston Rockets for Paul, and then agreed to trade New Orleans-bound Lamar Odom to the Dallas Mavericks instead.

ESPN.com learned Tuesday that a Lakers' deal for Paul has not yet been ruled out, contingent on the fact that they can recruit at least one other team to supply some of the young pieces that the league is demanding. But the Lakers do still have Gasol as a centerpiece, who could either replace Paul as the Hornets' franchise player or give New Orleans a top-20 player to be dangled in subsequent deals.

"The Lakers are definitely still in this," said one source close to the talks.
NBA.com confirms
that both the Clippers and the Lakers are "both in play" for Paul's services.
Gasol was the best player not named Paul in the earlier three-team framework with Houston, so it was a bit unusual that he was not originally headed back to the team that stood to lose the best player involved. But that was the nature of the Lakers' dilemma, as they simply did not have enough young pieces and/or draft picks to make an enticing offer that would have helped New Orleans rebuild in the wake of the loss of their franchise player.
Since those talks fell apart, former Hornets All-Star forward
David West
signed a two-year deal
with the Indiana
Pacers
and Lakers forward Lamar Odom, who would have been sent to New Orleans, was
instead traded
to the Mavericks. In other words, New Orleans' frontline is now incredibly thin and the prospect of acquiring Gasol could be more palatable than the idea of making do by re-signing free agent forward
Carl Landry
.
Such a trade would leave Los Angeles with
newly-acquired
forward
Josh McRoberts
and center
Andrew Bynum
up front, pending any other moving pieces. That's not a ton of depth, especially given Bynum's propensity for injury and knuckle-headed behavior. Lakers forward
Derrick Caracter
suffered a knee injury
during training camp on Tuesday, further compromising the Lakers' frontcourt.