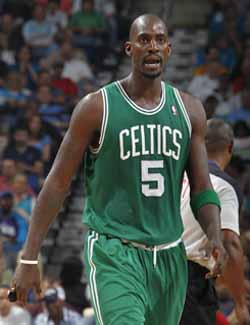 Posted by Royce Young
Most every player, coach and general manager is giving the stock answer when asked about how a shortened season and training camp affects their team.
"Everyone's got to do it," they'll say. Or something close to that.
But not
Kevin Garnett
. He's a bit angry.
Via ESPN Boston
:
"I think what you see, we're a rushed league right now," Garnett said. "Everybody is paying attention to the
Chris Paul
situation. But I don't know why everyone's shocked, because Stern has been pretty adamant about when he wants to do things and how he does things.
"Timing is everything. Chemistry is something that you don't just throw in the frying pan and mix it up with another something, then throw it on top of something, then fry it up and put it in a tortilla and put in a microwave,
Heat
it up and give it to you and expect it to taste good. You know? For those of you who can cook, y'all know what I'm talking about. If y'all can't cook, this doesn't concern you."
Most college students disagree, as putting anything in a tortilla makes it a quality meal. But that's beside the point. Garnett is frustrated with the hurried state of the NBA. I don't really know what else he wants, but that's the way it is. I suppose the season could start later and there could be fewer games, but that's less money for everyone and you know nobody is going to be for that.
Ray Allen
and
Paul Pierce
feel the same way as their Big 3 teammate.
"I feel very rushed," Allen said. "I can't say that I've been particularly happy with the way things have transpired over the last two or three weeks, but I think everybody is in a situation where we just have to do the best with what we have. We have to adjust to the situation at hand, and it's a challenge for all of us. We're all going through it, so there's nothing more you can do about it but prepare yourself physically and mentally."
Pierce: "We talk about it. This is something that could have been avoided, especially when you see all the different trades falling through, the disorganization of rosters at this point. There probably should have been a period where you had a free-agent signing period and then training camp. Christmas Day was something that was really pushed amongst the players as a key day, and that's why we've rushed the way we've been rushing."
That just comes with the territory of a lockout shortened season though. There will be 66 games in a short amount of time and teams are going to pay the price. Fans will probably pay the price by having to watch bad basketball at times. In truth, some games might be sort of like a can of beans thrown in a pot mixed with Honey Nut Cheerios with a bit of cheese and cinnamon on top. In a tortilla.