Posted by Royce Young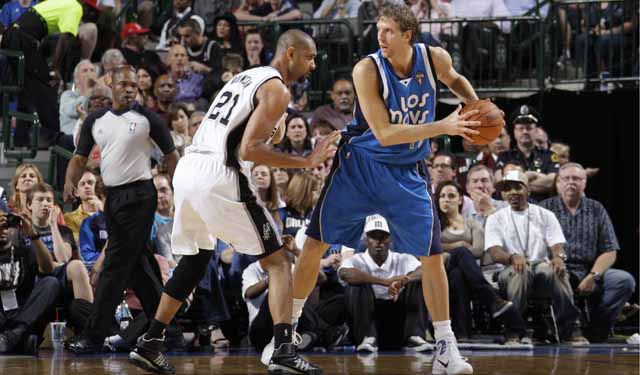 We're less than two weeks away from the start of the 2011-2012 NBA season. After an interminable lockout and a rushed free agency period, here's a first look division-by-division preview at how the league is shaping up. We begin with the Southeast Division.
2011 Standings:
San Antonio
Spurs
, 61-21, lost in first round of Western Conference playoffs to Memphis
Grizzlies
Dallas
Mavericks
, 57-25, won the NBA title
New Orleans
Hornets
, 46-36, lost in first round of Western Conference playoffs to Los Angeles
Lakers
Memphis Grizzlies, 46-36, lost in second round of Western Conference playoffs to Oklahoma City
Thunder
Houston
Rockets
, 43-39, NBA Draft lottery
Best team: Dallas Mavericks
Here's the situation for the Mavericks: They're the defending champions, but they lost a major piece of that puzzle in
Tyson Chandler
to free agency. They replaced him with
Lamar Odom
, who they had to give up nothing to get, and added
Delonte West
and
Vince Carter
to make up for
Caron Butler
,
DeShawn Stevenson
and J.J. Barea.
Question is, are they better than last season? My answer: No idea. Nobody really knew how good the Mavs were until the postseason last year and that might be the case again. But with
Dirk Nowitzki
,
Jason Kidd
and
Jason Terry
, this group will win its share of games, get a nice seed and set itself up for another run at a title.

Worst team: New Orleans Hornets
And that's maybe even before they get
Chris Paul
traded. Forget the fact that the Hornets only have six NBA players on their roster right now. Losing
David West
really hurts. Losing
Carl Landry
really hurts. Heck, losing
Aaron Gray
really hurts. And you know you're not in good shape when losing Aaron Gray really hurts.
Even if CP3 is handcuffed to The Big Easy for this season, the Hornets are headed for the bottom of the Southwest and most definitely the lottery. That's what's so frustrating about the original trade that fell apart. With
Luis Scola
,
Kevin Martin
and Lamar Odom, this team was a playoff contender. Now, it'll be a battle to win 30.
Biggest surprise: Houston Rockets
Did you know: Last season the Rockets finished with 43 wins in maybe the toughest division in basketball? Did you know that would've put them as the sixth seed in the East? And yet they missed the postseason in the West. Such is life. General manager Daryl Morey is trying to do everything to ramp up the roster a bit and while it looks like he'll be hanging on to Scola and Martin for a while, he's got a group that can win.
Kyle Lowry
really came into his own last season and if the Rockets can somehow figure out how to get into the Nene sweepstakes, this team is a playoff contender. Heck, it already is.
Three Best Players: Dirk Nowitzki, Chris Paul, Zach Randolph
Chris Paul is included because as of
right now
, he's still in the Southwest Division. Dirk was a no-brainer, but Zach Randolph was a tough choice. Because you'll notice a key name omitted. Starts with "Tim" and ends with "Multiple Championships." Reason for Duncan being left off is that with the crammed 66-game schedule, this season could really wear on him. He was already sitting out the second game of back-to-backs in the normal 82-game set. But this could really affect his game. Randolph blossomed into one of the league's premier power forwards in the postseason, working over Duncan's Spurs.
Biggest Question: Does New Orleans start the season with Chris Paul?
A week ago, the answer to that was "Duh, no." Now, it's looking like there could actually be that awkward moment where Chris Paul has to take the floor in New Orleans in front of a home crowd. Nothing is hanging over the NBA quite like this trade saga and it will greatly impact the balance of power in this division. Chris Paul is good enough to win the Hornets games on his own. Take him away and replace him with a rebuilding group of youngsters and you just added four more wins to each team in this division. Everyone wants to know where CP3 is going. We know it's not going to be New Orleans, but right now he's chained to the water heater in the basement of New Orleans Arena. It's just a matter of when he'll be set free.
2012 Projected Standings:
1. Dallas Mavericks
2. San Antonio Spurs
3. Memphis Grizzlies
4. Houston Rockets
5. New Orleans Hornets