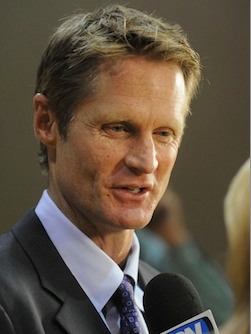 Posted by Royce Young
After the NBA's ridiculous handling of the
Chris Paul
situation in New Orleans, a lot of people have felt the need to vent. I know I have. I caught myself yelling at my dog yesterday saying things like, "How dare the NBA intervene and manipulate the league!"
Steve Kerr though, has a much bigger voice and when he talks, a lot more people than a dog listen up. Kerr is a TNT analyst now, but was the Phoenix
Suns
general manager for a number of years and a prominant player on a couple of Michael Jordan's championship
Bulls
. He knows the inside of the business. He knows how it all works. And he is
fired up
about the way the NBA blocked CP3's trade to the
Lakers
, most notably about Dan Gilbert who sent an email to David Stern the day it happened complaining about it.
Via Sports Radio Interviews
:
"It's such a crock that he would even mention that. That guy is a billionaire, they have been way over the cap while they had LeBron, way over the tax. He's still upset that he lost LeBron and he needs to get over it. LeBron gave that franchise the best seven years they have ever had. He was a free agent and he decided to leave. Nobody likes the way LeBron left, even he apologized for it the other night on TV but the fact is there is a thing called free agency and if a superstar player wants to leave when they are agents, they can leave."
Tell us how you really feel, Steve.
But he couldn't be more right. Gilbert was complaining about things like the luxury tax and how the Lakers were going to save money, therefore cutting into the revenue shared with small market teams like his Cavs. Gilbert said that 25 teams were the Washington Generals. He's basically been playing quite the woe-is-me thing ever since LeBron left the Cavs.
Kerr on the trade itself:
"Every one of them is wrong and I don't know how many there are either but I've been angry all day long about this whole thing because I think it was a great basketball trade. There are so many trades made these days that are lousy trades that are made for financial purposes ... The problem I have is that this was a great trade for the Hornets.

There's no way they can duplicate that. I thought Dell Demps did an incredible job. You end up with three legitimate good players in (Luis) Scola, Kevin Martin, and (Lamar) Odom. You get a first round pick, you get Goran Dragic who I like and a guy I drafted in Phoenix. He's a good player. You're telling me you're going to deny that for basketball reasons when every single other analyst out there and every GM thinks they hit a home run with that trade. And by the way in seven months if they play it out they are getting nothing."

[...]

I made one of the worst trades in NBA history. I traded Kurt Thomas and two first round picks to Seattle for nothing, to save 16 million dollars for our organization. Where was the NBA then to veto that trade for basketball reasons?"
First, I love that Kerr acknowledges how bad the Thomas trade was. He made it to save Robert Sarver some money, but that deal ended up giving then Seattle and now the
Thunder
, two first round picks, one of which turned into
Serge Ibaka
. Like he said, why didn't the league intervene with that?
The point with this whole thing is, is that the league shouldn't have such a heavy hand here. Yes, the NBA owns the Hornets. But it's also supposed to oversee the league and make sure things stay fair. It's supposed to stay out of the way. For as much as the NBA preached competitive balance, they sure have stuck their thumb out and intentionally hurt the
Rockets
and Lakers. It's not fair and it's got people like Steve Kerr angry.
I would say that it's going to be awkward when TNT does a Cavs game, but we all know that nobody is wasting a national television game on the Cavs. Unless LeBron's coming to town. The truth hurts, huh Dan?
Via Deadspin