Posted by Ben Golliver.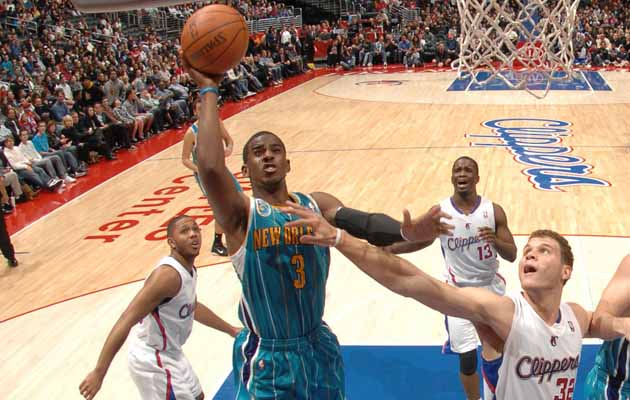 The ceaseless on-again, off-again trade talks involving New Orleans
Hornets
All-Star point guard
Chris Paul
are reportedly back on. Monday night, round two with the Los Angeles
Clippers
commenced.
ESPN.com reported
that talks between the league-owned Hornets and Clippers have officially resurrected after being
declared dead earlier on Monday
.
After a seemingly imminent trade routing Paul to the Clippers collapsed earlier Monday, sources told ESPN.com that the league officials negotiating on the Hornets' behalf had aggressively re-engaged the Clippers in talks in hopes of completing a deal as soon as Tuesday.

The talks hit an impasse earlier Monday when the Clippers decided that the league's asking price for the All-Star guard was too high. But Clippers general manager Neil Olshey said Monday that the trade could be revived if some of the parameters change. And a source close to the process told ESPN that league officials also do not see talks with the Clippers as "over."

The league-owned Hornets and the Clippers could not complete their proposed Chris Paul trade because the Clippers decided the asking price was too high. The NBA remains "hopeful," according to the source, that Paul's fate can resolved "soon."
Ken Berger of CBSSports.com reported
that a source said: "The league has no choice. They have nowhere else to go."
Earlier trade talks had the Clippers sending center
Chris Kaman
, point guard
Eric Bledsoe
, forward
Al-Farouq Aminu
and the Minnesota
Timberwolves
' 2012 first round pick pick to the Hornets for Paul. Other reported versions of the trade talks also included guard
Eric Gordon
. The talks reportedly fell apart when the Clippers felt NBA commissioner David Stern, who possesses final authority on personnel moves for the Hornets, was asking too high a price for Paul.
Some variation of the reported package would give the paper-thin Hornets multiple players to plug in as starters plus an excellent building block chip in the 2012 pick. The Clippers are looking to find a premier perimeter player to pair with forward sensation
Blake Griffin
,
recently re-signed
center
DeAndre Jordan
and, ideally, retain Gordon, who is a potential future All-Star at shooting guard.
The Clippers also
claimed veteran point guard
Chauncey Billups in an amnesty bidding pool on Monday.