Posted by Ben Golliver.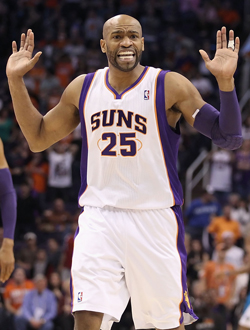 Vince Carter has found another new NBA home.
Delonte West
is once again an NBA employee! And both have arrived in the same destination: the Dallas
Mavericks
.
The defending champs announced the signing of Carter, a 34-year-old 8-time NBA All-Star, on Monday. Terms of the details were not disclosed by the team but
ESPNDallas.com reports
that Carter signed a mini Mid-Level Exception deal worth $9 million over three years. Carter was bought out by the Phoenix
Suns
last week
. Carter averaged 13.5 points and 3.6 rebounds for the Suns last season.
West, a 28-year-old free agent guard who spent the offseason
applying for a job at Home Depot
,
contemplating selling knives
,
working for a furniture store
and
fretting about his lack of health insurance
, has reportedly signed a 1-year contract with the Mavericks.
SlamOnline.com
and
Yahoo Sports
report that West, 28, will join the defending champs. A 7-year NBA vet, West spent last season playing for the Boston
Celtics
, where he averaged 5.6 points and 2.7 assists per game.
Dallas is now loaded in the backcourt, bringing back
Jason Kidd
,
Jason Terry
, Rodrigue Beaubois and
Corey Brewer
and having traded for
Rudy Fernandez
prior to the lockout. Second year guards
Dominique Jones
and
Andy Rautins
, recently acquired from the New York
Knicks
, are also currently on the roster too with
Shawn Marion
and
Lamar Odom
also fighting for playing time on the wing.
Together, West and Cater make the tenth and eleventh player who will fight for minutes at the one, two or three position for Dallas. Surely some additional roster balancing or trimming moves are coming.