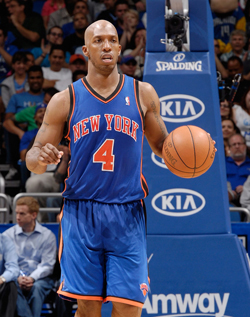 Posted by Royce Young
Chauncey Billups made it pretty clear that he only wanted to play for a contending team and not for some young group in a rebuilding mode.
Well, the
Clippers
must think pretty highly of themselves right now.
The league announced Monday that Billups was claimed off waivers by the Clippers after the
Knicks
used their amnesty clause on him last week. Billups said shortly after the Knicks used the amnesty on him that he would
consider retirement if he was claimed by an unfavorable team
.
"If I get claimed by team I dont want to play for, I would absolutely consider retirment," he said.
And not just that, but Billups and his agent actually threatened retirement even if a team claimed him period, as he wanted to be a free agent and have his say where he goes. I guess the Clips really feel like
Blake Griffin
has changed everyone's opinion about them or something.
Of note: Billups doesn't get any of the $14.2 million he was owed this season by the Knicks if he retires. I'm kind of thinking he's not going to retire.
With all this
Chris Paul
drama, it's of note: Billups can't be traded until July 1. The Clippers could buy him out though, which made become a real possibility if he doesn't respond well to this.
The Clippers already have
Mo Williams
playing point and youngster
Eric Bledsoe
behind him, so it's a little unclear where they could use him. Some thought the Clips would have to amnesty a player in order to get under the cap, but that's inaccurate. They were $3.5 million under the cap and used that space to put in a bid, as
DeAndre Jordan
's cap hold was only $1.1 million.
There's a decent case to be made that the Clips could be a playoff team. Contender? No way, but they could push for the postseason. Match on Jordan and you've got a starting five of Billups,
Eric Gordon
,
Caron Butler
, Blake Griffin and Jordan. With
Randy Foye
,
Ryan Gomes
, Bledsoe, Aminu and Kaman off the bench. That's not a bad team at all. Really, Billups would be a little bit crazy to be that upset about this.
All be told though, it's a bit of a curious move by the Clips. A lot of teams were lining up to take a stab at Billups as a free agent -- the Mavs,
Heat
,
Magic
,
Nets
-- but instead, it's the Clippers, a team that doesn't really need him, not to mention the fact Billups might be a bit disgruntled when he shows up. I suppose the Clips could just hand the starting duties to Billups and sit Williams and drop Bledsoe to a third point guard backup role. I don't think that's necessarily an upgrade, but that's probably where they're at.
They want a veteran, proven winner to take the reins of the team and try and inject the talented group with a steady leading presence. It could work. It could be a nice fit and is probably an upgrade from Williams. But it's still a little odd.
It also means the Clippers are very likely out of the Chris Paul derby. This appears to be sort of their backup plan to getting the best point guard in basketball. Go get the 14th best one. Potentially it makes Williams (or Bledsoe) that much more expendable. And in that case, this deal was an extremely wise one.
I have an idea though if that falls through: Chauncey should get
Al-Farouq Aminu
to give him No. 3. CB3. Close enough?