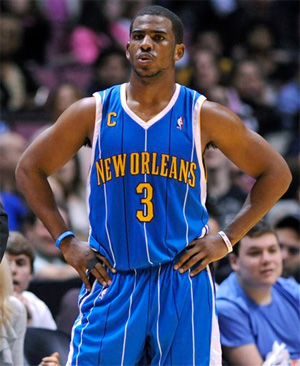 Posted by Royce Young
It's not good to be Dell Demps right now. He's officially the general manager of the New Orleans
Hornets
, the guy in charge of all transactions and roster decisions of the franchise.
But he might as well be a ballboy. Maybe a ballboy with every NBA GM on speed dial, but that's about the only edge he has at this point.
After Demps has watched three of his trades for
Chris Paul
fall apart because the NBA wouldn't approve (two
Lakers
, one
Clippers
), Demps has to be frustrated.
And as Yahoo! Sports reports
, he's merely just along for the ride now.
"He's basically a spectator now," one official said.

Stern has two of his top league office executives – Joel Litvin and Stu Jackson – making calls and conducting negotiations with teams interested in Paul. Demps is still making calls, but rival front offices and agents involved in possible deals with New Orleans say that he's no longer authorized to decide on any transaction.

Teams interested in Paul have to send formal "bids" to the league office, sources said.
A lot of people have described this thing as a mess, circus or complete cluster. Choose your word and it probably fits. It's ridiculous, frustrating, maddening and downright stupid. The league has a serious conflict of interest here and two NBA executives are the ones running the show. Does that not completely blow your mind?
It might be one thing if this was all over
Jarrett Jack
or
Quincy Pondexter
. But this is about Chris Paul. This is about a deal that will completely alter the landscape of the NBA. And it's a deal that should have been done almost a week ago.
Instead, Big Brother is watching over the Hornets and completely cutting off Demps' manhood. The league said a deal in which Demps put together receiving
Lamar Odom
,
Luis Scola
,
Kevin Martin
,
Goran Dragic
and some picks wasn't enough. The league wanted
Eric Gordon
,
Eric Bledsoe
,
Chris Kaman
,
Al-Farouq Aminu
and the very valuable Minnesota 2012 pick, but the Clippers said it was too much.
Basically we're getting the NBA labor negotiations all over again but instead of BRI and mid-level exceptions, we've got Chris Paul and some draft picks.
It might not all be completely over though.
Ken Berger of CBSSports.com reports
the league and Clippers are trying to revive a deal. However,
as Berger tweeted around 5:30 p.m. ET
, "it's over." ESPN.com reports though the league is hopeful the deal will be resolved soon.
So do we. So does Chris Paul. And most especially, so does Dell Demps.