Posted by Ben Golliver.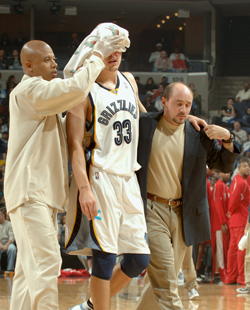 The NBA game might not be as ferocious as the NFL or as bloodthirsty as the NHL, but it's still incredibly physical and head injuries do occur.
With that in mind, the NBA instituted a new concussion policy to begin the 2011-2012 season, one that includes greater centralization and additional safety checks that must be satisfied before a player returns to the court. Here is a summary of the pertinent details in a release from the NBA.
The National Basketball Association today announced the institution of a concussion management program designed to safeguard the neurological health of NBA players through a comprehensive framework of education, clinical management and data collection and analysis. The program went into effect at the start of training camp.

Among the highlights of the new program:


The hiring of Dr. Jeffrey Kutcher as the Director of the NBA Concussion Program. Dr. Kutcher, Associate Professor of Neurology at University of Michigan, is a leading authority in the field of sports neurology and the Chair of the Section of Sports Neurology for the American Academy of Neurology.
Providing annual training and education to players, coaches, and team medical personnel, tailored to their specific role and consistent with the evolving science of concussion management.
Annual baseline testing of players, including both a neurological exam and a computerized cognitive assessment tool.
A customized post-injury concussion assessment tool and multi-stage return to play protocol. In order to maximize the consistency of care throughout the league, all return to play decisions will be discussed with Dr. Kutcher before the player returns to competition.
The documentation and aggregation of all data related to a concussion, and its diagnosis, management and outcome.
While concussions aren't the hot button debate topic in professional basketball because there are no quarterbacks taking helmet-to-helmet hits and no forwards taking slashing hockey sticks to the temple, they do occur in the NBA. The relative rarity of concussions actually creates a potentially dangerous climate: When one occurs, players, first responders, coaches and management figures are all less experienced in properly dealing with both the short-term and long-term decisions that need to be made.
By adding Dr. Kutcher -- as both an accessible, experienced expert and as a centralized league-level reviewer of team behavior -- the NBA has seemingly taken an important step to protecting its players. Head injuries are tricky situations. Players feel an immense internal pressure to "shake offf the cobwebs" and help their teams, particularly late in games or down the playoff stretch. By rule, coaches always prefer players that can play to players who can't. Medical staffs are thus stuck in the middle, forced to make split-second decisions that balance the short-term need to win a contest versus the longer-term need to preserve the player's health. A league-level reviewer that oversees a player's "return to play protocol" is just extra insurance against a player pushing too hard to help his team or a coach that might be tempted to look the other way if the player says he is good to go.
We won't know exactly how this program will play out, unfortunately, until someone goes through the process. But it's good to know it's there, and it's nice to see the league get out in front of a controversial topic with a sensible plan, for a change.