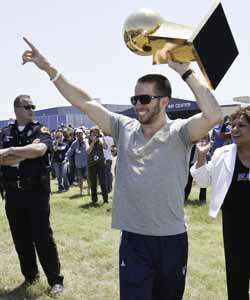 By Matt Moore
The Dallas
Mavericks
will look nothing this season like the team that took the floor at the beginning of last season, nor the one that took the floor for Game 6 of the NBA Finals.
Tyson Chandler
has signed with the
Knicks
.
Caron Butler
has signed with the
Clippers
. And now it appears J.J. Barea will be gone as well.
NBA.com reports
that Barea has received a four-year, $19 million offer from the Minnesota
Timberwolves
.
This deal is right on the cusp between being great value and slightly overpaid. Barea lacks size (obviously) and athleticism. But he's 27, still in his prime, and has an incredible ability to not only manage the offense effectively, but score in bursts using savvy and quickness.
It's easy to pull out the old Timberwolves point guard jokes, but considering their actual situation, with
Luke Ridnour
being their only other primary viable point. Barea can work in small lineups at the two-guard spot (or extremely big ones if the frontcourt is loaded). He's versatile and plays within the system. He should work extremely well under Rick Adelman.
For the Mavericks, the fans don't even get to enjoy one night of seeing the team that knocked off the
Heat
to bring the Mavericks their first ring. And the team will be very different when it takes the floor on Christmas against the Heat. The Mavericks won the title and decided to go in a different direction. Immediately.
It should be noted that the deal for Barea is actually less than the Timberwolves paid for
Darko Milicic
. So they're learning.