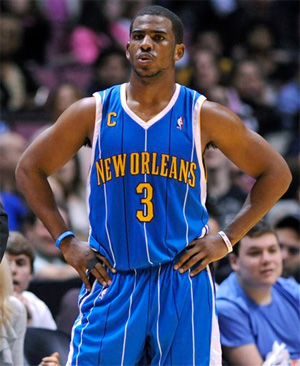 Posted by Royce Young
Chris Paul
might be going to Los Angeles after all. Might even be playing in Staples Center.
No, not with the
Lakers
, but with their roommate, the Los Angeles
Clippers
.
According to ESPN.com
, the Clips are on a short list of teams Paul would approve of being traded to Los Angeles to team up with
Blake Griffin
. But that's only if the Lakers or
Knicks
can't swing a deal for him. Which at this point, appears unlikely.
The Lakers had a three-way deal worked out to bring Paul to Los Angeles before David Stern and the NBA vetoed it for so-called "basketball reasons." Talks re-engaged, but felt apart again Saturday night when the
Hornets
reportedly asked for too much. A piece in the trade,
Lamar Odom
, was then sent to Dallas for a trade exception, essentially busting any chance a deal would go through.
The Clippers understand though that it's a risk to trade for Paul as any team that acquires him runs the risk of him not signing an extension. He likely wouldn't sign one as under the new collective bargaining agreement rules, it's better for a player to wait until his deal runs out and sign a contract in free agency.
Interesting twist to that in this case though: The Clippers aren't asking for Paul to sign an extension yet. All they want is for him to pick up the player option on his contract for 2012-13. That would postpone his free agency one more year. And if CP3 is willing to do that, the Clippers would evidently be open to deal their top two most highly prized assets in
Eric Gordon
and Minnesota's unprotected 2012 No. 1 pick.
That's very important stuff.
The only way anyone can really see the Clippers landing Paul would be to part with Gordon and the Wolves unprotected pick. And if the Clips were willing to part with those, it's a very real possibility that CP3 could be headed to Clipperland sometime this week.
According to the report, the Hornets have already asked the Clippers for Gordon,
Chris Kaman
,
Eric Bledsoe
,
Al-Farouq Aminu
and at least two future first-round picks for CP3. That's a whole lot of cheese right there. Probably a little too steep for the Clippers, in fact.
But that's more the deal the league evidently is interested in after vetoing the original deal. The original three-way trade with Houston that brought Lamar Odom,
Luis Scola
,
Goran Dragic
and
Kevin Martin
to New Orleans allowed the Hornets to stay competitive. This new scenario allows them to get younger and rebuild, which apparently is the league's desire.
The Clippers deal is better in my mind, but it's a matter of if the Clips are willing to pay that kind of price just to get Paul for maybe two seasons. Teaming him with Blake Griffin is of course a very exciting prospect, but Gordon is a top 10 scorer with a ton of upside still, Minnesota's pick is maybe the most valuable asset in the league (it could very well turn into Anthony Davis), and Eric Bledsoe is a promising young point guard. That's a whole lot to pay, even for a player of CP3's caliber.
If the Hornets were able to swing this deal, I would give it up to Stern and the league, because it's undeniably better. But it's a big if at this point. Mainly because we're talking about the Clippers here and the fact that Chris Paul would have to buy into them long-term. Seems pretty iffy still to me.