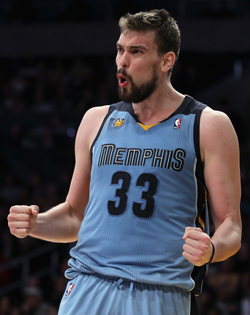 Posted by Royce Young
UPDATE:
According to NBA.com
,
Grizzlies
owner Michael Heisley follows through on his promise and the team intends to match
Marc Gasol
's offer sheet from the
Rockets
for four years, $55 million.
"We're keeping Marc," Heisley said. "We can't afford to let him go … Marc and his agent have to decide what they want to do. But we would definitely match that if that came up to us."
Gasol tweeted late Monday
: "I'm proud to say that we have reached a tentative agreement with my team @memgrizz, can't wait to get on the court with all my teammates!"
---
It's been a whirlwind week for the Houston Rockets but come hell or high water, Daryl Morey is getting himself a new big man to replace Yao Ming.
First, it was going to be
Pau Gasol
, possibly combined with Nene. Now that neither of those things appear to be happening, Morey and the Rockets are going to try and get their Gasol anyway. But in this case, the younger, fuzzier version that's also known as Marc.
According to multiple reports, the Rockets are preparing a four-year, $55 million offer sheet for Marc Gasol. The thinking is, if the Grizzlies don't plan to match the offer sheet on Gasol who is a restricted free agent, Memphis would work a sign-and-trade with the Rockets.
But they're totally going to. No doubt.
Grizzlies owner Michael Heisley
has said the team plans to do everything to keep Gasol
and recent reports indicated Memphis would match "any offer" for Gasol. But even if that offer is a max deal?
Heisley said this in May
:
"Marc will decide whether he wants to be here. We will aggressively go after him," Heisley said. "He's a restricted free agent, so we can match whatever's out there. But obviously if Marc wants to leave, I'm going to have a different attitude than if he wants to stay. I hope he wants to stay. And after what we've done in the playoffs, I think he will."
There's a chance Gasol just wants to leave Memphis and if he resists the Grizzlies matching, that's where the chance of a sign-and-trade comes in. I think you be sure the Grizzlies want to match, but it's just a matter of if Gasol wants to be there or not.
Of note: That was before Gasol had an outstanding postseason and upped his value by a couple of million. If the Grizzlies were planning on matching this offer, that means they'd have pretty much every penny they have to spare tied up in
Mike Conley
,
Zach Randolph
,
Rudy Gay
and Gasol. Like I, and others have said, is that the type of long-term core you can win a title with? It's a fine team, no doubt, but with pretty much all your eggs in those four players' baskets, are you too committed to it?
What this could mean is Gay is expendable. Because it's hard to see how they can have three max deals, along with Conley's $9 million per season and keep it all together.
The Commercial-Appeal reports
the Grizzlies have already offered Gasol a five-year deal for presumably somewhere in the $60 million range. And if he's already resisting that, that could be a bad sign for Memphis.
The Rockets are trying to pick up the pieces after their blockbuster three-way trade for Pau fell through over the weekend. Without a big man and the fact
Chuck Hayes
has already signed with Sacramento, Morey is scrambling to try and do something. Offering Gasol is a bit of a long shot, but it's a shot Morey is kind of forced to take at this point.
The Grizzlies will likely do everything they can to match. Heisley wasn't just blowing smoke -- the organization loves the younger Gasol, especially with the fact he's just 26 and likely could be trending into an elite big man group. His 2010-11 season was a bit underwhelming in terms of stats (11.7 points, 7.0 rebounds per game), but you pay for good seven-footers. And Gasol is certainly one.
It's just a matter of who is going to be doing the paying here -- Memphis or Houston?