Posted by Ben Golliver.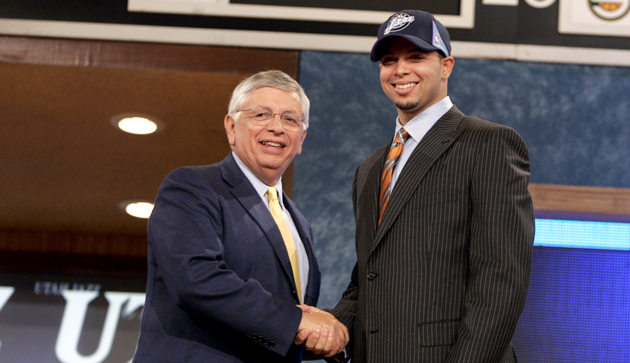 The public backlash against NBA commissioner David Stern over his handling of recent
Chris Paul
trade talks just got an added boost of superstar juice.
New Jersey
Nets
All-Star point guard
Deron Williams
slammed, calling him a "bully" repeatedly, in comments made on Sunday, one day after the
Lakers
pulled out of extended 3-team trade talks
that would have landed the New Orleans
Hornets
All-Star point guard in Los Angeles.
The New York Daily News has a rundown
of Williams' public critique, which could very well end up drawing a fine from the commissioner's office.
"You're fighting a bully. David Stern is a bully, you can't really go up against him," Williams said.

Williams didn't back off when asked again. "He knows he's a bully. It's not a secret," Williams said, laughing. "You got to be. I think every owner of every big business is a bully. That's how they become successful."

Williams said he has tried to contact Paul recently, but understands his friend is in a "tough situation."
It's hard to dispute Williams' sentiment given how harshly the NBA lockout played out and how authoritarian Stern's stance on the Paul trade appears from the outside, although this type of candor is rare in the NBA as the league office tends to respond harshly to even the slightest criticism from amongst its ranks.
Williams is an obvious ally for Paul, who saw a great chance to leave behind a disorganized Hornets organization to play for the league's premier organization explode over the last 72 hours. Williams and Paul are friends, were drafted in the same year, led small-market teams against the big dogs for years and are now anxiously looking forward to flex their muscles and improve their NBA situation with free agency approaching. Of course Williams will stand by Paul publicly: he realizes that if something like this can happen to CP3, it can happen to D-Will too.
The outcry over
Stern's decision to step in and veto
the Paul-to-the-Lakers trade on Thursday also led Indiana
Pacers
forward
Danny Granger
to joke that he was
considering changing his last name
to "Stern's B****." Paul threatened not to show up to training camp and Lakers forward
Lamar Odom
, who was also involved in the trade proposal, did not participate in Lakers camp on Friday and was
promptly traded
to the Dallas
Mavericks
on Saturday.
Stern's heavy-handedness towards players was a hot topic during the lockout. Television commentator Bryant Gumbel
criticized Stern
for acting like a "modern plantation overseer" and NBPA attorney Jeffrey Kessler said that Stern
treated the players
"like plantation workers."