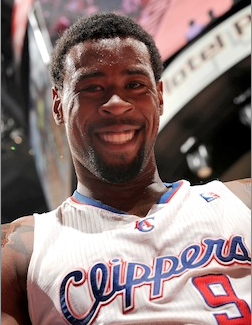 Posted by Royce Young
UPDATE:
As expected, the
Clippers
matched Golden State's 4-year, $43 million offer for restricted free agent center
DeAndre Jordan
, retaining his rights,
according to Yahoo Sports
and
confirmed by Ken Berger of CBSSports.com
.
---
The
Warriors
really wanted an athletic seven footer to help complete their transformation into a strong defensive team. They thought that player would be
Tyson Chandler
, but Golden State couldn't keep up with the New York
Knicks
.
So the Warriors have taken a step back and gone after a different big man.
According to Ken Berger of CBSSports.com
, the Warriors signed restricted free agent DeAndre Jordan to a four-year, $43 million offer sheet Sunday. The Clippers have three days to match the offer.
Jordan, who is just 23 and appears to be really be trending upward, has spent the last three seasons witht the Clippers and averaged 7.1 points, 7.2 rebounds and 1.8 blocks in 25.6 minutes a game alongside
Blake Griffin
.
The Warriors offered Chandler a four-year, $60 million deal last week but weren't able to land the defensive-minded center. So they've turned to a younger, rawer version of him.
What's interesting about this offer is that the Clips have already reportedly extended Jordan a five-year, $40 million offer, one which he turned down to instead check out the open market. So while Jordan could be looking at an extra two million per year, it's hard not to see the Clippers matching on this offer.
The Clippers are certainly inclined to match, unless they have visions of keeping some flexibility for the 2012 free agent bonanza.
Chris Kaman
certainly isn't a long-term solution at the 5, but you can be sure the Clippers still consider themselves players for
Dwight Howard
. But then again, you let Blake Griffin's boy walk because you didn't want to pony up an extra two million a year and you might be toeing a dangerous line of ticking off your franchise guy.
Of note: The Warriors are making this move with the ability to not use their amnesty provision on
Andris Biedrins
though. How?
CSN Bay Area explains
:
By waiving Jeremy Lin on Friday and not yet signing rookies Klay Thompson and Jeremy Tyler, it appears as though the Warriors can get to Jordan's starting first-year salary – in the $9 million range -- by amnesty-ing Charlie Bell. The Warriors are waiting until Sunday to sign Jordan to the offer sheet because they need Lin to clear waivers.

Bell, who played sparingly last season, is on the last year of his contract and set to earn $4.1 million. He was recently arrested in Michigan after showing up intoxicated at his hearing for an earlier DUI.

The Warriors have told Bell to remain in Michigan – rather than joining the team at training camp – and that he is a candidate for amnesty.
Obviously Golden State would likely dangle Biedrins as trade bait so that the Warriors don't have more than $20 million a year tied up in two offensively challenged centers.
Again, it seems to me like it makes all the sense in the world for the Clippers to match. Then again, sense and the Clippers don't often mix well.