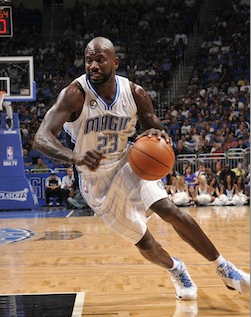 Posted by Royce Young
The
Magic
got their man! Well, not
that
man. Not
Super
man.
It's just
Jason Richardson
actually who inked a four-year, $25 million deal
according to Yahoo! Sports
. One of the top guards in this free agent class for sure, but not exactly the primary target or someone that will necessarily encourage
Dwight Howard
to stick around.
Magic general manager talked to the media Saturday evening and said the team was close to a deal with Richardson and would have one done by Monday. He was asked if Richardson were just trade bait or for the long-term and Smith said he intended to keep Richardson. Smith also said the re-signing of Richardson would not have been possible without the amnesty on
Gilbert Arenas
.
The Magic are in such an interesting place right now with their roster. Just because Dwight Howard might be out doesn't mean it's time to blow everything apart and start anew. Orlando will be receiving a nice package in exchange for Howard that could include someone like
Brook Lopez
and/or Nene. So there needs to be quality pieces in place for when the roster is rebuilt.
He's only 30 and still has a number of good years ahead of him. He gives the Magic a lot of depth at shooting guard with
J.J. Redick
and keeps the team with a bevy of outside shooting threats, which is something coach Stan Van Gundy likes. Especially if Dwight Howard is his center. And while he might not be in a week or so, there's a good chance Van Gundy will have a new talented big man in his place, so having those marksmen flanking the wings isn't a bad thing.
Richardson averaged 15.6 points and 4.1 rebounds per game with a 15.02 PER playing in both Phoenix in Orlando last season. With the
Suns
in 25 games he put up 19.3 ppg but with the Magic in 55, he only averaged 13.9. Four years at a little more than $5 million per year is a pretty good bargain for a player like Richardson. Considering what a lot of other guys in the same neighborhood as him are going for, I'd say the Magic did pretty well. But that's not the whole story. Because the Magic are in flux right now, or at least should be.
Richardson faded mightily last season and will greatly damage the Magic's chances of getting under the cap in the near future. Which seems like the logical plan post-Dwight. Cut salary, open up some flexibility and rebuild. Instead, it seems like Otis Smith is trying to prep to continue on with a mediocre roster that may include Nene or Brook Lopez in the near future.
Curious.
Related: Consider this curious quote from Richardson though that he had over the summer:
"I want to go to a great place for my family,"
Richardson told the Saginaw News
. "I've been blessed by God to play in the NBA for a lot of money. I'd like to go someplace that has a chance to win a championship ... I probably have five or six seasons left in the NBA, so I want to go somewhere I can stay."
Are the Magic a team he can win a title with? Or I should say, will they be that type of team in a week or two? Nope. But at this point, no way is he turning down what the Magic offered. Forget titles and contending. Money talks.