Posted by Ben Golliver.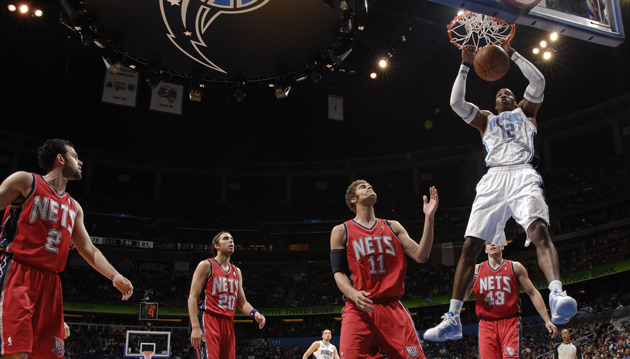 Get me out of here!
Orlando
Magic
All-Star center
Dwight Howard
has reportedly told the team that he wants to be shipped out of town.
The Orlando Sentinel reported Saturday
that Howard had request a trade multiple times this week.
Dwight Howard has told the Orlando Magic that he wants to be traded, Magic General Manager Otis Smith told the Orlando Sentinel Saturday afternoon.

Smith said Howard has made the request twice in separate conversations since Monday.
Yahoo Sports reported soon after
that Howard, who would be eligible for free agency next summer, had requested a trade to the New Jersey
Nets
.
Ken Berger of CBSSports.com
confirmed Saturday
that Howard has requested a trade to New Jersey but noted that "a person involved in the chase cautions not to count out the Los Angeles
Lakers
" and that Howard "still views L.A. as the best fit for his off-court pursuits." Berger
reported on Friday night
that the Magic had given permission for Howard to speak with the Nets, Los Angeles Lakers and Dallas
Mavericks
. Howard's particular interest in the Nets was
first reported on Friday
. Almost two weeks ago, the Nets
reportedly offered a trade package
to the Magic that includes center
Brook Lopez
and two first round draft picks in exchange for Howard and forward
Hedo Turkoglu
.
As noted Friday, if Howard's heart is truly set on landing in New Jersey there's an excellent chance it could happen, especially now that chaos reigns over the Los Angeles Lakers, arguably his strongest other suitor. But that still remains an "if" until we hear from Howard personally or from the Magic, in the form of a completed trade.
Howard, 26, is a 5-time All-Star and the best center in the NBA, by far. In New Jersey, he would be the immediate face of the franchise and he would soon be in Brooklyn, adjacent to the media center of the universe and right in the middle of all the fame he can handle. The Nets, given their cap situation, would have a fair degree of flexibility in building around All-Star point guard
Deron Williams
and Howard, so he wouldn't be stuck in a capped-out situation like he is in Orlando, at least not immediately. He would figure to have solid input in helping New Jersey build around him, as the Nets surely would want to avoid the Magic's mistakes.