Posted by Ben Golliver.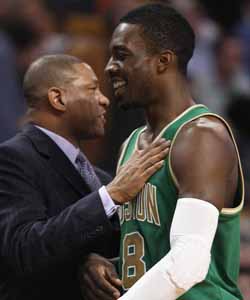 Jeff Green
is back in green.
The Boston
Celtics
announced on Saturday that they have inked their restricted free agent forward to a 1-year deal.
ESPN.com reports
that the deal will pay Green $9 million for the 2011-2012 season.
Green, 25, was tendered a qualifying offer for just under $6 million last summer after joining the Celtics thanks to a midseason trade with the Oklahoma City
Thunder
. Something of a combo forward, Green averaged 13.3 points, 4.8 rebounds and 1.4 assists per game last season as he admittedly struggled to adjust to life in Boston.
The 1-year deal for good money is an interesting strategy by the Celtics. The team has said it values Green but the organization is approaching a major transition as veterans
Kevin Garnett
,
Paul Pierce
and
Ray Allen
continue to age. Garnett and Allen both have expiring contracts that come off the books after this year, leaving Pierce and point guard
Rajon Rondo
as the two obvious building blocks, barring a franchise-altering trade. Boston pays a premium on the deal -- plus luxury tax,
as noted by ESPN.com
-- to ensure future flexibility.
The Celtics have reportedly been aggressive in the trade market, looking to add point guard
Chris Paul
and other big-time players, while
shipping
Glen Davis
to Orlando for
Brandon Bass
and
reportedly constructing
a sign-and-trade deal involving that will land them
David West
.
Re-signing Green potentially creates a bit of a logjam with Garnett, West, Green and Bass, although Green can easily slide to a wing position and Garnett can play some smallball center. The size and brevity of Green's contract makes him an attractive trade asset, as he can step in and start on most teams, won't break the bank or swallow cap space long-term and could be used to help match salaries in a future deal.
Green makes out pretty well here too. He potentially gets a 1-year shot at redemption for a big-name club that is expected to have big-time money next summer to commit to him. Between now and then, he gets significantly more than just a qualifying offer, something no restricted free agent with his future in limbo would ever complain about.
Given the volume of chatter around the Celtics in recent days and the potential for major roster overlap it's quite possible more deals are coming down the pipeline.