Posted by Ben Golliver.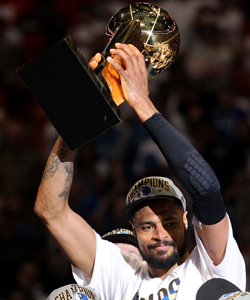 The New York
Knicks
completed two major roster moves on Saturday, formally announcing the signing of free agent center
Tyson Chandler
and confirming that the team has used the amnesty clause to waive point guard
Chauncey Billups
.
The Chandler signs comes as part of
a 3-way sign-and-trade
between the Knicks, the Dallas
Mavericks
and the Washington
Wizards
. New York gets Chandler, the rights to
Ahmad Nivins
and Giorgos Printezis from Dallas; Dallas gets second-year guard
Andy Rautins
from New York and a protected 2012 second round pick from the Wizards; Washington gets Knicks center
Ronny Turiaf
a 2013 second round pick plus
a reported $3 million in cash
from the Knicks.
Ken Berger of CBSSports.com reported on Thursday
that New York was the favorite to land Chandler, a key member of the 2011 NBA champion Dallas Mavericks. Chandler's deal is reportedly worth four years and $58 million.
The Knicks will receive cap relief on the $14.2 million owed to Billups for the 2011-2012 season, the final year of his contract. Billups was
reportedly very upset
by the decision; he will now enter a blind bidding pool of teams where only teams that are below the salary cap can compete for his services. His stay in New York was short: he was traded along with forward
Carmelo Anthony
prior to the 2011 trade deadline.
By shedding Billups, Turiaf and Rautins, the Knicks have actually created cap space for themselves despite the sizeable offer to Chandler. They will need it. Having lined up the best 3-4-5 combination in the NBA with Anthony,
Amar'e Stoudemire
and Tyson Chandler, the Knicks must now work quickly to address their backcourt, which is about as barren as it gets.
New York's thinking here is pretty clear: dream target
Chris Paul
seems destined for the
Lakers
and Chandler was arguably the best catch in this current free agency pool, making an excellent consolation price. A premier shot-blocker and team defender, Chandler fills New York's gaping hole in the middle, making life easier for both Stoudemire and Anthony. While people will pause before calling this a true "Big 3", it's a dominant trio. Chandler is mobile enough to keep up with a fast-paced offense, but the biggest question is his durability, as he has missed at least eight games in five of the last six seasons. The Knicks will be very thin and at a major disadvantage whenever he is unable to suit up.
The Wizards did nicely here as the facilitator, grabbing a solid asset in Turiaf, who is in the final year of his contract and is paid just $4.3 million. He fills a frontcourt hole and doesn't require a long-term or big-dollar salary commitment, perfect for a Washington team that's still in rebuilding mode. The extra picks and the cash to cover most of Turiaf's deal are just icing on the cake.
For Dallas, this is a major blow. Conventional wisdom around the league dictated that billionaire owner Mark Cuban would do everything in his power to retain Chandler, who averaged 10.1 points, 9.4 rebounds and 1.1 block last season. Instead, he acquired a few minor assets and a large trade exception, which could definitely prove useful, in exchange for Chandler's departure to the Big Apple and must now work to fill his center hole with limited cap flexibility. Cuban's stated goal is to increase his cap space for a run at a superstar next summer, which is a solid idea. It's way too soon to rule out a repeat for the defending champs, who have also recently
been linked to contact
with Orlando
Magic
All-Star center
Dwight Howard
, but losing Chandler hurts, to be sure.
Billups is the big loser in all of this. Having apparently thought until recently that he was going to run a big-market, high-profile team on its way to a potential playoff run, his future is now left to an amnesty process that gives him no real control over his future. There will surely be bids for his reliable, veteran services, and the Knicks will recover financial savings if and when Billups is officially claimed.
In
comments made to Yahoo Sports
following the decision, Billups totally flipped out in an effort to dissuade teams from bidding for him.
I've been known as a leader, and I am a leader, but a leader can be as disruptive as he can be productive, especially when you carry a strong voice and people rally around you. This is about me now. This is about me, and teams should know that right now."

"I want my freedom. My goal is to control my own destiny. And as you've seen in my career, I've never been in a position to do that. I know some teams out there are saying, 'Oh, Chauncey will be great in mentoring' and I'm tired of that. I've got a few good years left to play, and I'm not trying to come in and sit on the bench, or be a mentor. I'm not going to be that guy. I want to go somewhere and win. I want to choose."
The goal here obviously is to create a situation where he can sign on for cheap with a championship contender or to ensure that he doesn't have to play for a middling team. Other than creating this sort of public outcry, Billups has no real leverage or control in the process. We now wait to see whether teams heed his threats.