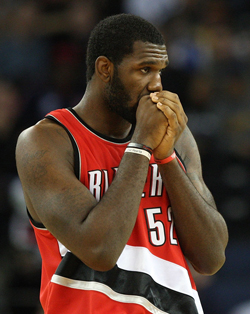 Posted by Royce Young
Friday was a pretty bad day in Portland and there have been a lot bad days when it comes to the Blazers. First,
Brandon Roy
will reportedly retire and now there's news that
Greg Oden
has suffered an undisclosed setback.
The team in announcing Oden's one-year deal with the team made mention that he will be receiving less than the $8.9 million originally reported. Instead, Oden will get a figure lower than that because he had what the team would only call a setback to last year's microfracture surgery.
The Oregonian has a few more details
:
Oden on Thursday was examined by Dr. Steadman in Vail, and said he was given the nod to expand his activity, indicating he had made progress

But the Blazers, who didn't comment Thursday after his appointment, determined that he is less likely to return to the court this season

Oden's setback is with a non-weight bearing ligament. He has no symptoms and doesn't feel restricted, but there is concern w/ the fragility
Oden was said to be running and was looking to return to the floor in January, but that's unclear as to if it's possible now.
"Following Greg's most recent physical examination and evaluation, we've determined that he has suffered a setback," said team president Larry Miller in the release. "We're hopeful, but less confident that he will return to the court this season. We've stood by Greg from the day he was drafted and we continue to do so now with this agreement."
Said Oden: "I'm obviously disappointed with the setback, but I'm as determined as ever to return to the court. I appreciate the support of the
Trail Blazers
and our fans and that they continue to stand behind me."
Greg Oden's NBA career has basically been one big setback and this is just another in the long line of them.