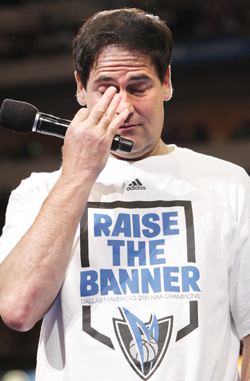 Posted by Royce Young
Everyone is pretty much freaking over the
Chris Paul
trade. For good reasons. It's pretty much an unprecedented move that completely blew the doors off the league and everybody covering it.
After it happened, the common thinking was it was the owners that pressured David Stern. There was the Dan Gilbert email which is just sickening, but he was really the only one anyone could connect to it. Now Mark Cuban has
come clean to the Ben and Skin show in Dallas
:
"The message is we went through this lockout for a reason," Cuban said Friday. "Again, I'm not speaking for Stern. He's not telling me his thought process. I'm just telling you my perspective, having gone through all this. There's a reason that we went through this lockout, and one of the reasons is to give small-market teams the ability to keep their stars and the ability to compete."
Stern claimed it was vetoed for "basketball reasons" saying that he felt the team was better served with Paul in New Orleans. Everyone knows that's pretty much bogus because owners like Cuban don't mind saying they disagreed.
"We just had a lockout, and one of the goals of the lockout was to say that small-market teams now have a chance to keep their players, and the rules were designed to give them that opportunity," Cuban said. "So to all of a sudden have a league-owned team trade their best player, particularly after having gone out and sold a ton of tickets in that market, that's not the kind of signal you want to send.
"Then, part two of that is all the rules of what you can and can't do under the new CBA weren't finalized until yesterday, so how do you really make a strategic decision until you know all the rules?"
By the sound of Cuban there, it seems like maybe this could be revisited after the league is officially up and running again. Maybe, maybe not.
Would it be different if this were the Mavs getting Paul though? Would Cuban have a different opinion if his team were acquiring a great player like him?
"I mean, obviously, I wouldn't have been happy, but I would have understood because it was a conversation a lot of owners had long before the Laker deal was consummated," Cuban said. "It was like, 'Look, sure, I'd love him. Give him to me in a heartbeat.' But the whole idea of the lockout was to prevent stuff like that.
"Players will always have the right to choose what they want to do as a free agent, but the players agreed to rules that said, 'You know what? Let's give the home team, the incumbent team an extra advantage.' And that's how the rules were designed. I think they're going to work."
David Stern released a statement about the trade to try and explain what happened here. Trust me, it's not good enough and I'm sure this isn't the last word on the matter.
"Since the NBA purchased the New Orleans Hornets, final responsibility for significant management decisions lies with the Commissioner's Office in consultation with team chairman Jac Sperling. All decisions are made on the basis of what is in the best interests of the Hornets. In the case of the trade proposal that was made to the Hornets for Chris Paul, we decided, free from the influence of other NBA owners, that the team was better served with Chris in a Hornets uniform than by the outcome of the terms of that trade."
Free of influence, eh? Obviously that's not true. Your owners ratted you out already Stern.