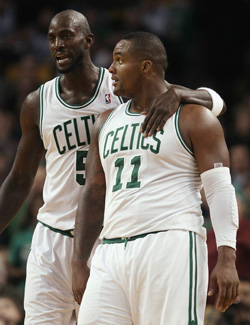 Posted by Royce Young
At certain points,
Glen Davis
was considered a pretty solid free agent acquisition and a major part of the
Celtics
rotation. But in terms of money, he wasn't fitting. No, not because of his size, but because of the money he wanted.
The Celtics have decided to move on, trading him to Orlando for
Brandon Bass
in a sign-and-trade,
according to Yahoo! Sports
.
With the deal being a sign-and-trade, Davis' salary is reportedly for four years and $26 million. Bass is set to make $4 million this season.
It's kind of an odd deal because it's hard to say what the
Magic
were trying to upgrade here, but Bass will definitely fit in well with the Celtics. He's a hard working player and someone with a good amount of offensive skill that never seemed to fit in to Stan Van Gundy's rotation for whatever reason. He can rebound and hit a little jumper, which are two things Davis did well. It'll probably just be Bass fits in at a cheaper price.
Davis will likely head to Orlando and start at power forward, and will probably be paid more than Bass. And he's not at all a better player. He's not a better defender, not a better shooter and it's up for debate if he's a better rebounder.
It's kind of a minor deal that will be lost in the shuffle of all this madness, but it's a curious one. The Celtics upgrade with a young player that likely just needs more opportunity, but the Magic have acquired an inconsistent tweener that is probably going to be paid too much.