By Matt Moore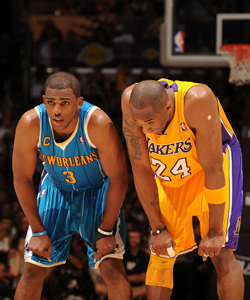 ESPN reports
that the teams involved in the
Chris Paul
trade to the
Lakers
which was blocked on Thursday night by the league will appeal the decision to the league.
If this is orchestrated by the league in the
face of overwhelming outrage from players
, the media, and fans (though those in small markets are certainly divided on the issue), it would represent an acceptable way out.
The league can't reverse its own decision without sacrificing massive credibility (which they damaged in the first place with the veto/block), and it would allow the trade to go through after some element of adjustment (say, an additional pick from the Lakers sent to New Orleans). Despite the outrage from several owners, the precedent set by the block stands as something completely outrageous (for more on that, check out
Ken Berger's scathing column
).
Ken Berger of CBSSports.com reports
that past procedure for disputed trades involves an arbitrator, a process which could take some time, which the league doesn't have, especially with players threatening not to attend camp Friday.
Paul is also considering further legal action against the league independently. It's an extremely messy situation in which the league seems to have underestimated the player and public reaction to, and something they need to resolve as quickly and quietly as possible.
According to the L.A. Times
, the Lakers can't appeal to NBA office about Chris Paul trade block because the league considers the deal to have been nixed by the
Hornets
, not the NBA.