Posted by Ben Golliver.


NBA commissioner David Stern made the controversial decision on Thursday to step in and veto a trade that would have sent New Orleans
Hornets
point guard
Chris Paul
to the Los Angeles
Lakers
. The outrage over Stern's alleged over-reaching was fast and furious online, and not just among media and fans.
Indiana
Pacers
forward
Danny Granger
took to Twitter
to express his mildly profane and brutally honest thoughts.
"Due to the sabotaging of the LA/NO trade by David Stern," Granger wrote, "and following in the foosteps of my athlete brethern (sic)
Metta World Peace
and Chad Ochocinco, I'm changing my last name to 'Stern's Bi#&h', effective immediately."
Here's the visual proof. Pretty classic. Especially cool if you happen to be an acorn or squirrel enthusiast.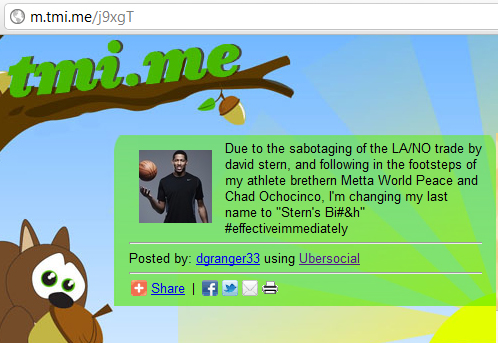 Granger
later clarified
that he was "obviously kidding."
As both the NBA's Board of Governors and the National Basketball Players Association ratified the league's new collective bargaining agreement on Thursday, Granger's straight talk might have opened him up to a possible fine.
Tension regarding Stern's treatment of players was a hot topic during the lockout. Television commentator Bryant Gumbel
criticized Stern
for carrying himself like a "modern plantation overseer" and NBPA attorney Jeffrey Kessler said that Stern
treated the players
"like plantation workers."