Posted by Ben Golliver.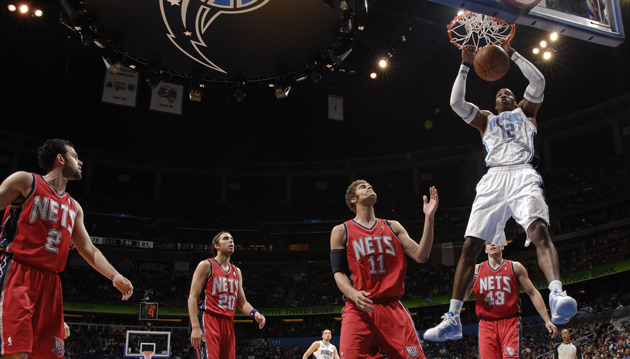 Earlier this week
, word surfaced that the New Jersey
Nets
were preparing your classic "young piece / financial relief / draft picks" package in an attempt to swing a deal for Orlando
Magic
All-Star center
Dwight Howard
. The Nets have been kind of a running punchline for the last few years, so the offer was seen merely as an opening salvo in what could potentially be a long and complicated trade process.
But
ESPN.com reported on Thursday
that this isn't necessarily a one-way street of interest. Indeed, the site reported that Howard "is expected to ask the Magic to trade him to New Jersey" as the Nets "have emerged as his No. 1 choice."
The benefits for Orlando are clear. They can toss in
Hedo Turkoglu
's terrible contract, amnesty
Gilbert Arenas
and begin work on crafting their future. New Jersey can toss in cash, picks and all the other accoutrements to make the bitter pill of trading Howard go down a bit easier.
New Jersey's motivations are equally transparent. Landing Howard not only gives them one of the league's top-2 players, but it serves as the perfect hook for keeping All-Star point guard and impending free agent
Deron Williams
in town. Pairing Williams and Howard would give the Nets arguably the best inside-out pair in the game. Williams is 27-years-old and Howard is 26-years-old, so the Nets would figure to be strong title contenders for the next four years, minimum.
This all comes down to Howard and his motivations. He hasn't made extensive public comments to this point so it's not easy to gauge where he stands or what's most important to him, other than the obvious desire to win a title. In New Jersey, he would be the immediate face of the franchise and he would soon be in Brooklyn, adjacent to the media center of the universe and right in the middle of all the fame he can handle. The Nets, given their cap situation, would have a fair degree of flexibility in building around Williams and Howard, so he wouldn't be stuck in a capped-out situation like he is in Orlando, at least not immediately. He would figure to have solid input in helping New Jersey build around him, as the Nets surely would want to avoid the Magic's mistakes.
If Howard's heart is truly set on landing in New Jersey there's an excellent chance it could happen, especially now that chaos reigns over the Los Angeles
Lakers
, arguably his strongest other suitor. But that still remains an "if" until we hear from Howard personally or from the Magic, in the form of a completed trade.