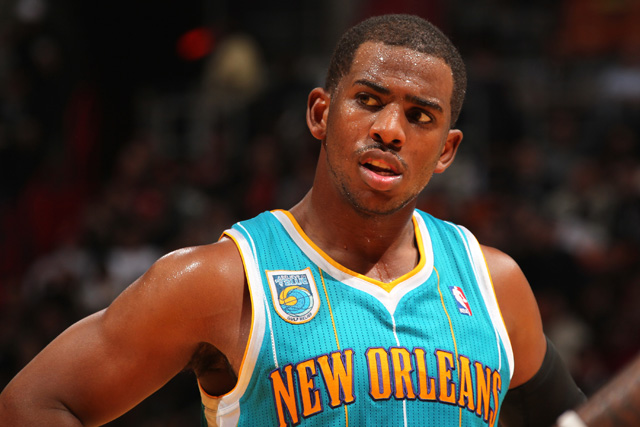 By Matt Moore
Update Friday 4:30 p.m. EST
Paul
arrived at practice Friday in a black jersey
. So for now, he's playing the part of a professional.
Lamar Odom
arrived at
Lakers
camp 40 minutes late,
spoke with GM Mitch Kupchak, then left
. He did not practice with the team.
Pau Gasol
is not in attendance. We're sure that wasn't awkward at all.
--
Hours after a trade that would have sent
Chris Paul
to the Los Angeles Lakers in a three-way trade with the Houston
Rockets
was blocked by the league
,
ESPN reports that Paul will not attend
Hornets
training camp Friday in New Orleans.
Ken Berger of CBSSports.com reports
a Hornets offical said it would be "very surprising" if Paul was in attendance.
Paul is said to be "fuming" over the blocked trade and considering legal action. Failure to show up for camp will of course result in a fine, levied by both the team and the NBA. Which is convenient, since the NBA owns the team and that's the entire problem. Any fines levied would likely also be included in damages Paul would seek if he were to pursue legal action.
Similarly, Lakers forward Lamar Odom
spoke with reporters
and said he might skip the first day because "you don't want to be somewhere you're not wanted." The Lakers are obviously facing a serious situation with chemistry, with Pau Gasol
described as "devastated"
by the initial trade. The Lakers had a championship core and it now has to try and function despite the fact its management had deliberately opted to blow it up. And if you don't think
Kobe Bryant
was consulted before these moves, well, you're probably right since they didn't consult him on the coaching hire. But still. Going to be an awkward locker room for a while.
This situation threatens to undermind and detonate the fragile peace that had just been signed into form hours before as the league and owners ratified the new CBA. The players surrendered significant financial gains to protect their flexibility of movement. Now the league has simply circumvented that as well using its powers.
We thought the ugliness was over. It was looking like a season, how u. But now we're back to the same questions of fairness, morality, and individual player influence that dominated the discussion for five, locked-out months.
NBA training camp opens Friday.